Click and Play Agility - Free Download!
01 Feb 2010Steve Schwarz
I am very pleased to announce that Angelica Steinker has decided to make her book Click and Play Agility, Clicker Training for Successful Dog Agility available as a free download through AgilityNerd!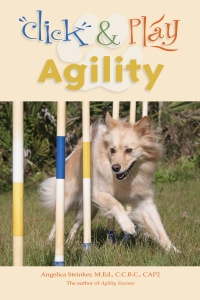 I was thrilled when she contacted me to help her make her book available to the agility community. I had seen it in CleanRun but hadn't yet purchased it. If you'd like to know what other trainers think of the book her book's website includes reviews from well known dog trainers.
I am only a novice clicker trainer. I've used a clicker primarily for marking simple obedience and agility behaviors (start line stays and 2o2o contact positions). I also strongly believe that clicker training is a skill in which anyone involved in dog training can and should be fluent. But I'm also goal oriented when it comes to dog training, I'm not interested in teaching Meeker tricks "just for fun", something most clicker training books focus on. So this book should help me learn more clicker training skills in the context of agility training; it is just what I need. Who knows maybe as I get better at clicker training I might enjoy it enough that I'll do some trick training too. So I'm really looking forward to reading each chapter and learning along with everyone else.
Due to the anticipated demand for downloads and the load it will put on my web site, we are currently planning to post a link to a new PDF section of her book each month. Depending on how well (or how badly) it goes we might modify that schedule.
I've upgraded my website to a more expensive server to keep up with the demand and will be releasing chapters about every two weeks.
So without further ado, here are the links for the cover, the introduction and table of contents, and chapter one:
Angelica has released her book using a Creative Commons license which allows you to download and share her book in accordance with this license.
In case you missed them here are the other posts containing the book's chapters that have been released so far:
If you enjoyed this article won't you please:
Thanks!
Related Articles: