Click and Play Agility - Chapter 2 and Appendices
27 Feb 2010Steve Schwarz
I am pleased to announce Chapter 2 and the Appendices of Angelica Steinker's book Click and Play Agility, Clicker Training for Successful Dog Agility are now available.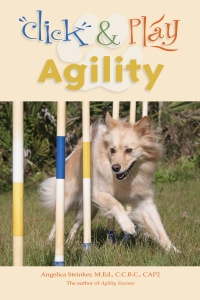 In Chapter 2 Angelica introduces her Click and Play Pyramid made up of five layers or categories of games. These layers provide the foundation of her training program. Since she has also started introducing some terminology, Angelica recommended I also include the Appendix which includes a glossary, recommended resources, training plan ideas and charts, and an explanation of tracking legs in AKC and USDAA for obtaining titles.
The release of Chapter 1 was handled pretty well by my webserver. I will probably move my websites to a slightly more powerful/expensive service in the next couple weeks; if I do it right you won't see any interruption in service.
I've upgraded my website to a more expensive server to keep up with the demand and will be releasing chapters about every two weeks.
Here are the links for Chapter 2 and the appendices:
In case you missed them here are the other posts containing the book's chapters that have been released so far:
Angelica has released her book using a Creative Commons license which allows you to download and share her book in accordance with this license.
If you enjoyed this article won't you please:
Thanks!
Related Articles: