Click and Play Agility - Chapter 4
06 Apr 2010Steve Schwarz
I am pleased to announce Chapter 4 of Angelica Steinker's book Click and Play Agility, Clicker Training for Successful Dog Agility is now available.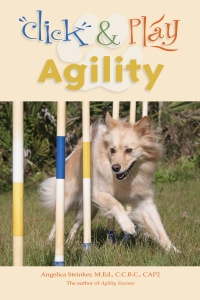 In Chapter 4 Angelica discusses:
What is Agility Motivation?
What Affects Your Dog's Motivation?
Cost and Benefits of Crating
Mild Deprivation
Perceived Value of Reinforcement
Satiation
Misconceptions
Tips for Motivating
Loving What Is
Exploring Motivational Challenges
Maintaining Motivation and Speed
Motivational Games
Enhancing Speed
In case you missed them here are the other posts containing the book's chapters that have been released so far:
Angelica has released her book using a Creative Commons license which allows you to download and share her book in accordance with this license.
Related Articles: