Click and Play Agility - Chapter 6
26 May 2010Steve Schwarz
I am pleased to announce that Chapter 6 of Angelica Steinker's book Click and Play Agility, Clicker Training for Successful Dog Agility is now available.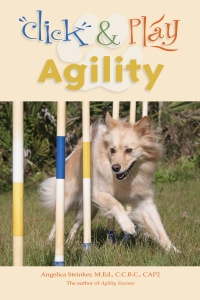 In Chapter 6 "Click! Ground Games" Angelica discusses:
Sit Game
Okay! Game
Down Game
Does the Click End the Behavior?
Finishing Touches on the Lead Out Game
The Start Line Challenge
Stand Game
Hand Targeting Game
Running Side by Side Game
Magic Flashlight Game
Name Game
Forklift Game
Jump in Chair Game
Left and Right Game
Out Game
Go Game
Balancing Handler and Obstacle Focus
Body Position Recall Game
Back Game
Turn on the Forehand Game
Look Game
Self-Control Games
The Leave It and Get It Games
Competition Obedience
Behavior Problems
Agility Specific Challenges
In case you missed them here are the other posts containing the book's chapters that have been released so far:
Angelica has released her book using a Creative Commons license which allows you to download and share her book in accordance with this license.
If you enjoyed this article won't you please:
Thanks!
Related Articles: