Click and Play Agility - Chapter 8
11 Jul 2010Steve Schwarz
I am pleased to announce that Chapter 8 of Angelica Steinker's book Click and Play Agility, Clicker Training for Successful Dog Agility is now available.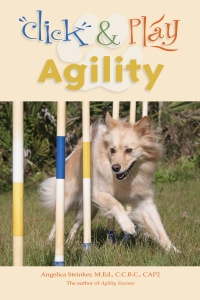 In Chapter 8 "Click! Jump Training" Angelica discusses:
What Influences a Dog's Ability to Jump?
Words of Caution
Introducing Your Dog to the Jump Obstacles
Click Commitment
Strides
Gait Variations
The Goal of Jump Training
Potential Challenges
Striding at Top Speed
Trajectory
Body Awareness
Cavaletti Games
Jump Chute Games
Jumping and Turning Games
Preparing for Competition
Fun Jumping Drills
Maintaining Your Dog's Jumping
In case you missed them here are the other posts containing the book's chapters that have been released so far:
Angelica has released her book using a Creative Commons license which allows you to download and share her book in accordance with this license.
If you enjoyed this article won't you please:
Thanks!
Related Articles: