Running-Contacts Blog
02 Jul 2009Steve Schwarz
Just came across a cool agility blog: Running-Contacts.com.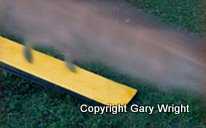 What do you think it's about? Yup, running contacts. The site is created by Gary White who is collecting videos and web pages about all methods for training running contacts. It is a great looking site and he has nicely organized all the information.
It looks like it will be a great resource for anyone considering or comparing running contact methodologies. It is definitely going on my Blogroll.
If you enjoyed this article won't you please:
Thanks!
Related Articles: