Backyard Mastery - Changing Sides & Cutting Corners
22 Aug 2020Steve Schwarz
I love finding ways to improve our agility skills even in small spaces. My previous Backyard Mastery article (Turning the Wrong Way) in the Oct 2019 issue of Clean Run showed how changing the direction your dog turns on a jump could increase the handling and training challenges. In this article, I'll show you two more simple ways to challenge your handling on a sequence: changing the side of the obstacle and skipping an obstacle.
For training, I think the numbering of any jumping sequence is just a suggestion. You'll find making these simple changes will really increase the difficulty, require you to put together handling moves, test your course memorization skills, and all in a small space!
Setup
Here's the obstacle set up for a minimum of a 40 ft x 50 ft (12 m x 15 m) space. If you have more space spread out the obstacles to increase your speed and the challenges.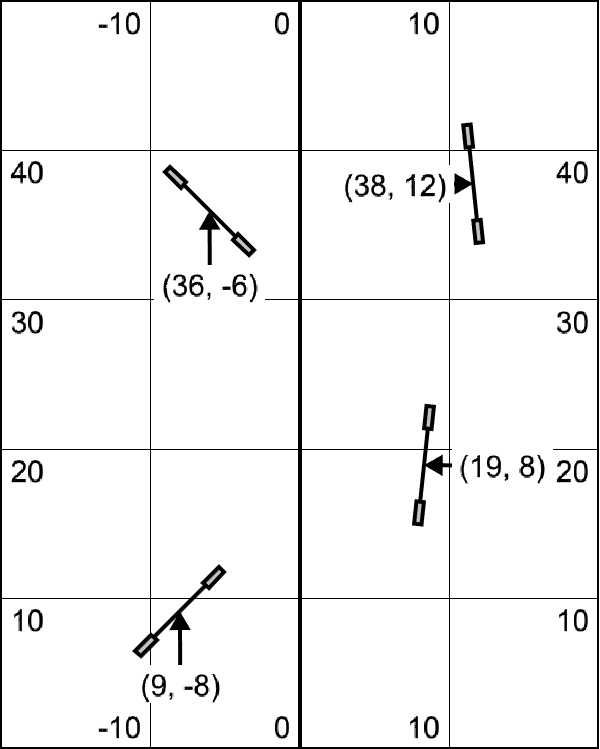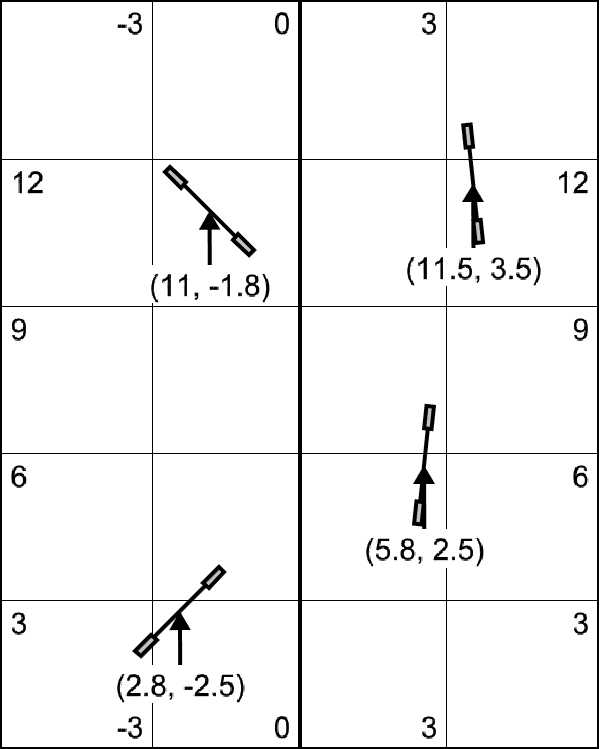 Discussion
By "changing the side of the obstacle" I mean exactly that. Here is the first sequence: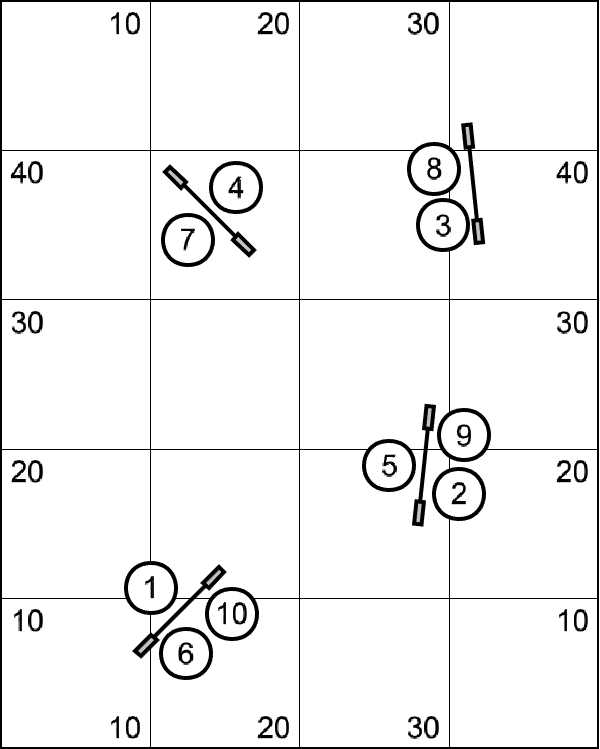 In the second sequence the red numbers have been moved to the opposite side of their jump: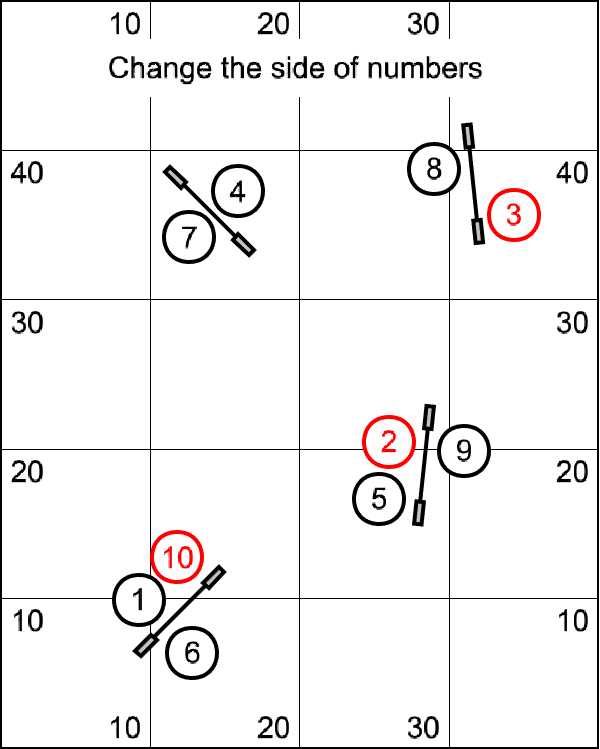 Change sides of as many or as few jumps as you like.
A good tip for changing sides is to consider your dog's path as they come over the preceding jump. If a jump sends your dog towards the edge of the next jump that next jump is a good choice for changing to the back side. That helps keep your sequence smooth and fast. Red jump 3 in the fifth sequence is a great example: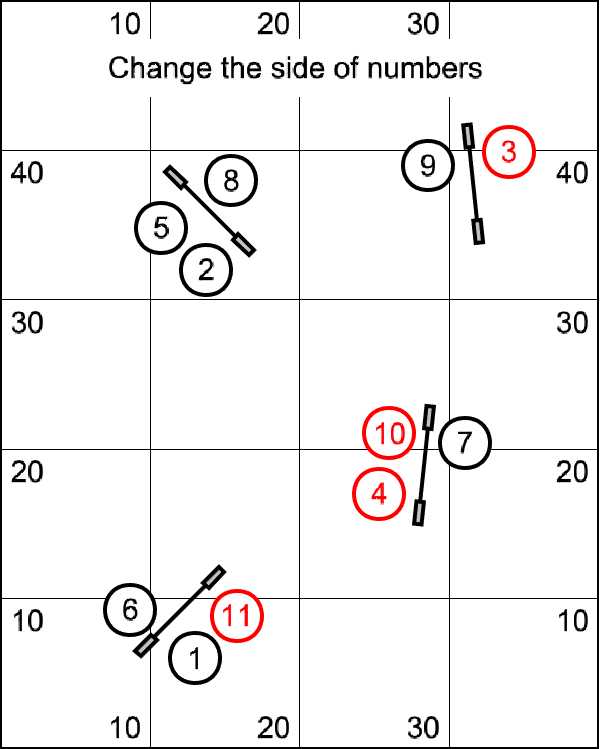 In the third sequence I've "cut the corners" by skipping the numbers at the end of a serpentine or the middle of a pinwheel of jumps: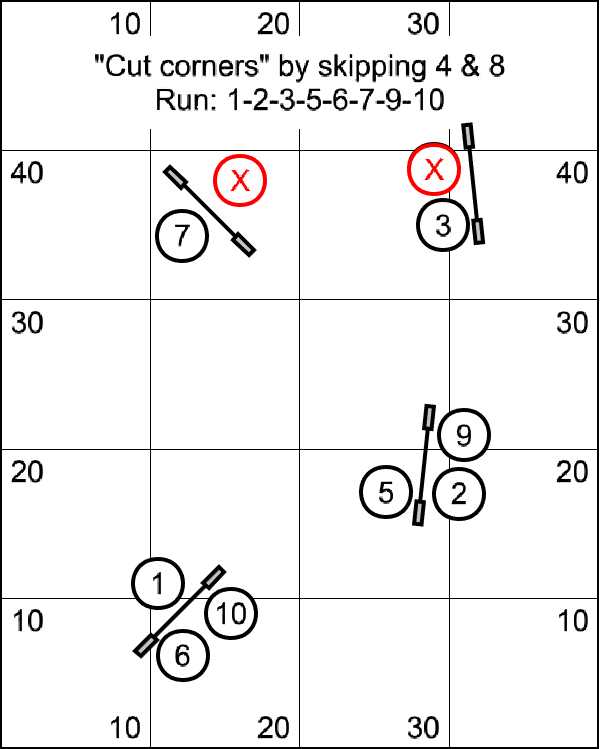 You can also skip jumps in the middle of the sequence to practice your "snookering" if you want to increase the difficulty further.
The remaining sequences start with a simple sequence and I "change sides" and "cut corners" in the next sequences to show you how this works.
With practice, you'll see your skills greatly improve and you can use these techniques on every sequence you set up in your backyard!
The Sequences
Let's get to work! Download a PDF of all the sequences on a single page.
If you enjoyed this article won't you please:
Thanks!
Related Articles: