Can You Handle It? Seminar Chalk Talk Video
27 Aug 2013Steve Schwarz
I recently gave a 1/2 day "Can You Handle It?" Seminar and enjoyed the challenges in the course so much I thought I'd share it and my analysis with you. I've created a chalk talk of the course so you can hear some of the handling approaches on which I had the participants work.
When I give a seminar I'm never interested in helping handlers just "get around" the course; I'm interested in helping handlers clearly communicate changes in direction and effort to their dogs so their runs are fast and clean.
I have two primary goals for this level and type of seminar:
Work on common sequences and methods for handling them.
Identifying and combining the most effective cues for each team and identifying areas for further practice.
Here's the course layout which contains: a 270 Handling 270 Degree Jump SequencesBack Side Entry to 270/Training Opportunity - Video270 Degree Jump Sequence, Serpentines Serpentine SequenceSerpentine Handling Techniques, Jump Wraps Jump Wrap Handling TipsJump Wrap/WrapJump Wrap Handling - With Video, a Pin Wheel, and some long lines with off courses. These are challenges an intermediate team will really want to master for competition.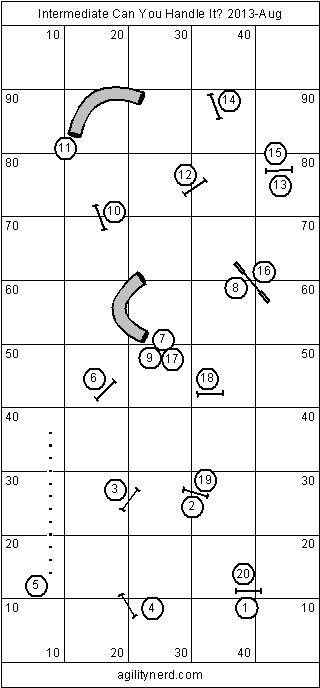 Here's my video chalk talk where I cover some of the handling possibilities and challenges faced by the students:
I hope you enjoyed this analysis!
If you enjoyed this article won't you please:
Thanks!
Related Articles: