More Gabi Steppan Inspired Backyard Sequences - Video
18 Aug 2013Steve Schwarz
I really enjoyed playing around with my Gabi Steppan Inspired Course and left it set up in my yard all week. I came up with some more sequences and thought I'd share them with you. They aren't as smooth as Gabi's sequence but they contain all sorts of challenges: Serpentines Serpentine SequenceSerpentine Handling Techniques, Threadles Mary Ellen Barry on Threadle HandlingThe Connection Between Threadles and Back SidesThreadle SequenceSingle Sided Threadle HandlingTraditional Threadle Handling, Back Sides Handling the Quad Back Side - Patrick Bucher Course/VideoThe Connection Between Threadles and Back SidesBack Side/Back Side JumpBack Side of Jump Handling Combinations - Video, and Jump Wraps Jump Wrap Handling TipsJump Wrap/WrapJump Wrap Handling - With Video.
I moved the tunnel a little but otherwise the setup is the same as my original layout. You might want to open up some spacing/adjust a little here and there - I'll run them later today/tomorrow and maybe tweak the setup a little. With luck I can shoot some video too.
Without further ado:
A Tough One(?)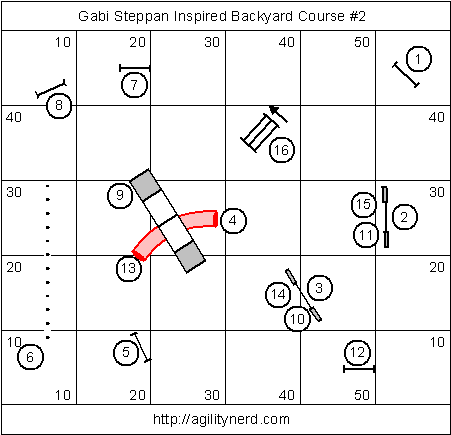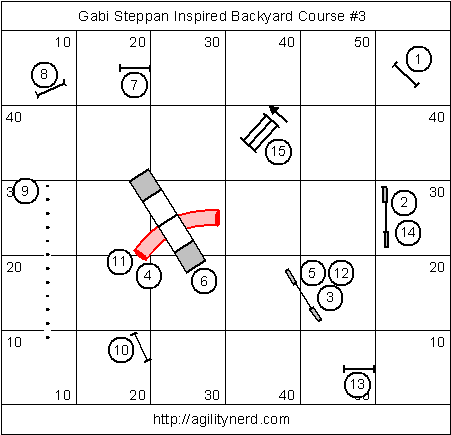 Please don't give your dog an unsafe approach to the A Frame: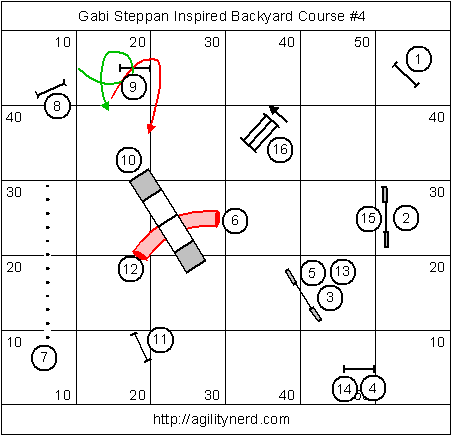 Hope you try these out and Please comment and share your videos!
If you enjoyed this article won't you please:
Thanks!
Related Articles: