Mark's Agility Equipment Pause Table
31 Jul 2012Steve Schwarz
My old pause table delaminated and warped years ago and I kept putting off making a new one. So rather than DIY I came up with a list of requirements prior to buying one: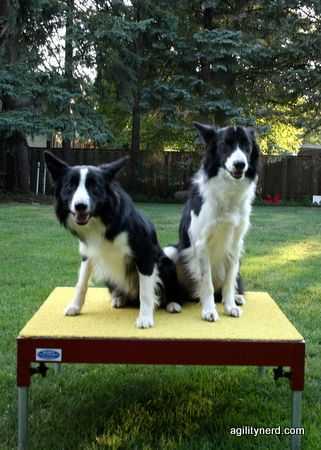 All aluminum base and legs
Aluminum composite top with rubber
Ideally powder coated color
I looked around the internet and found that Mark's Agility Equipment made a table with all those specs except powder coating. Mark is in Ohio and I've seen a lot of his equipment around here. I emailed Mark and he replied that he could make one with an Aluma Core/rubber top and deliver it in 4-6 six weeks.
Well that was four weeks ago and I received my table with USDAA length legs via UPS today. I was immediately impressed by the shipping boxes. The legs were in one box and the table top in another. The boxes where heavy duty cardboard stapled and glued all the way around; very strong and the equipment was perfect inside except for a couple tiny spots where the paint chafed against the cardboard during transit - you have to look for it to even see them.
There is a lot to like about this table. The legs are solid aluminum rod with square pads on the bottom. All the welds are very clean. All edges are "broken"/rounded so there are no sharp edges. The rubber is applied via the sprinkle on method (as opposed to the trowel on or rubber sheet methods). I also like that the legs can be held in place by hand screws underneath the table; you can use them to level the table on uneven surfaces (like my backyard).
So the only enhancements I could propose for this table would be to offer powder coating for a surface finish that is almost indestructable and offer the thicker rubber surface option. Of course those might add significantly to the price. But I am thrilled with this table as it is.
Here are some pictures of our new table: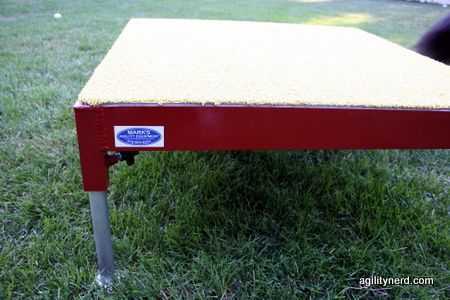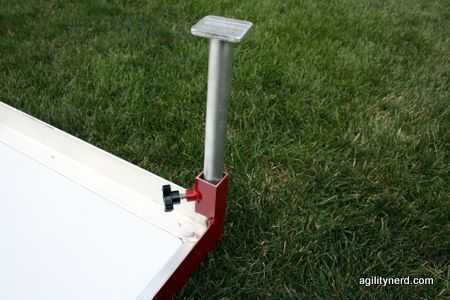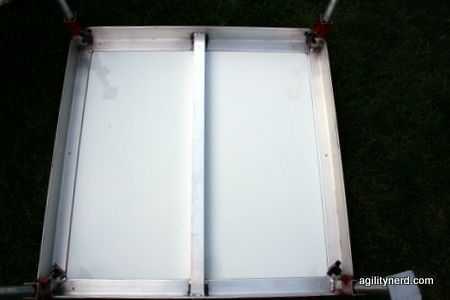 So now that I have a table I can start training Flyer on it!
If you enjoyed this article won't you please:
Thanks!
Related Articles: