Is Your 12 or 16 inch Dog Ready to be a Champion?
23 Mar 2012Steve Schwarz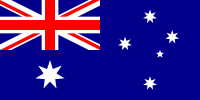 I got this urgent request for help for the Australian Agility Team coming to Fort Worth, TX for the IFCS World Agility Championships, your dog could be in the competition!
Team Australia desperately needs your help - we need 12 & 16 inch dogs to run in the World Agility Championships!!! Can you help?
Team Australia will be competing at the IFCS World Agility Championships (WAC) to be held in Fort Worth, Dallas TX 11-12 May 2012. Because of Australian Quarantine restrictions which would require, amongst other things, any dogs traveling out of Australia to be in Quarantine for a month upon their return, the team will be running "host" dogs at the Championships.
At this stage we do not have enough offers of 12" (Toy) or 16" (Mini) dogs. The dogs will be competing under IFCS rules with equipment more or less in line with USDAA. Height cutoffs are: Toy/12" dogs - height at withers = 30 cm (11 and 13/16") or less (jumping 30 cm). Mini/16" dogs - height at withers = 40 cm (15 and 3/4") or less (jumping 40 cm). Dogs do not need to be USDAA dogs and we can run dogs from any organisation in the US so we are looking for any dogs from USDAA, AKC, NADAC Teacup etc.
We have a full team traveling to the Championships, i.e. 3 handlers in each height class (12", 16", 22" and 26") each needing a dog and each team member has trained and handled a dog to Australian Agility Champion level. Two years ago in the UK we had someone have to withdraw a dog at late notice due to circumstances beyond their control so we would like to have a reserve identified for each height class (but wouldn't expect them to travel to the Championships unless they were already coming along).
The best case scenario is for the team to work with dogs that have experience in running/training with handlers other than their owner (as the reduces stress for both handler and dogs alike) and that would be available for team training sessions in the days prior to the Championships.
Team Australia Members at IFCS WAC 2010 (UK) formed a fabulous relationship with all of the host dog owners with many still in contact with each other 2 years later. So we anticipate this will be a lot of fun for all of the US host dog owners as well.
Please send email to Cathy Slot (Team Australia, Team Manager) cathy at agilityclick.com . We will send out an email with more info and asking about the dog. We want it to be a fabulous experience for the dogs too… so the better we do in planning, the easier that will be.
So - can your dog be on show in front of the world with us and help us out ????
If you enjoyed this article won't you please:
Thanks!
Related Articles: