iPad, iPhone and Android AgilityNerd
13 Mar 2012Steve Schwarz
Thanks to Google Currents you can now read AgilityNerd nicely formatted on your iPad, iPhone and Android phones and tablets.

Google Currents in an app like the iPad/iPhone only FlipBoard. BTW - you can read AgilityNerd on FlipBoard (just search for AgilityNerd and you can subscribe)
Here's how the "front page" of AgilityNerd looks on Google Currents on my iPad:
Click Image to Enlarge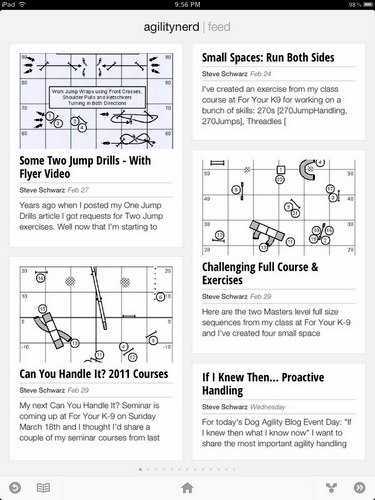 Just tap on an article to get a full screen view with all the images and videos.
It has a couple nice features for agility use:
When you click on an image it expands to full size. So course maps are easy to read.
All articles and images are copied to your phone/tablet so you can read them when you don't have wifi/cell access. That is handy out on an agility field.
If you want to try it on your phone or tablet click this link to install Google Currents and subscribe to AgilityNerd. Let me know how it works for you!
If you enjoyed this article won't you please:
Thanks!
Related Articles: