AgilityNerd Swag!
10 Dec 2012Steve Schwarz
Remember over a year ago when I was designing new AgilityNerd logos? Well I've finally tweaked those logos and created some AgilityNerd branded products over at Zazzle.com. I purchased initial versions of the T-shirts to check out the printing resolution and quality and was very happy with the results.
Zazzle handles the printing and shipping and I get a small percentage on each sale. The nice thing about Zazzle is you can choose the type of shirt, color and size that you want based on any of my products; you don't only have to choose the product/style shown in the picture.
I also spent this weekend playing around with designs for mugs. I like to think about course sequences while I'm drinking my coffee in the morning and I wanted to put some kind of "course" on the mugs. Then I realized if you had a fine point dry-erase marker you could design course sequences right on a mug. Better yet, then you can take it out to the field and it won't blow away! So I came up with the double box and course designer mugs. Here is a little viewer of all the products:
Please email me or leave a comment if you have other AgilityNerd product ideas!
Positive Performance Wristbands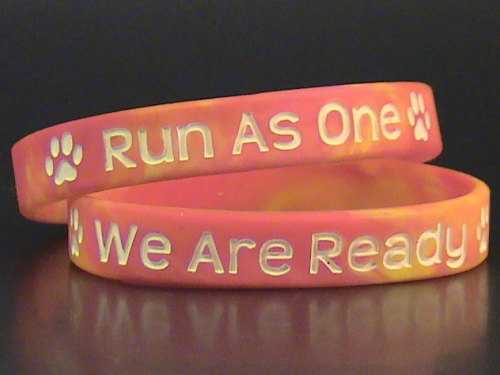 Years ago I created the AgilityNerd wristbands with positive slogans on them. I have worn mine ever since and I see the messages "We Are Ready" and "Run As One" on my wrist every time I step to the line with my dog and reach down to remove the leash. There are still a few available on the AgilityNerd store. I ship them out the next day I receive an order!
Don't Forget Clean Run!
If you are ordering from Clean Run please use this link to go to their store. I earn an affiliate bonus when you order after clicking the link. Your orders help pay the web hosting fees for all the AgilityNerd websites.
Thanks for supporting AgilityNerd through your purchases and especially through your comments. I always want to hear from you!
If you enjoyed this article won't you please:
Thanks!
Related Articles: