Skill Based & DIY Double Box, Star Box and Box Training Sequences
16 May 2011Steve Schwarz
Over the weekend I added a great new feature for creating training sequences to Agility Courses.com . You could always choose the skills on which you wanted to work (180, 270 270 Degree Jump SequenceHandling 270 Degree Jump SequencesBack Side Entry to 270/Training Opportunity - Video, Jump Wraps Jump Wrap/WrapHandling 360 Jump Wraps aka "Over and Over" - VideoJump Wrap Handling - With VideoJump Wrap Handling Tips, Threadles Threadle SequenceMary Ellen Barry on Threadle HandlingThe Connection Between Threadles and Back SidesTraditional Threadle HandlingSingle Sided Threadle Handling, Serpentines Serpentine SequenceSerpentine Handling Techniques, etc). Now you can click on the obstacles in the order you desire and then create/save the sequence. I don't think it could be much easier! Of course you can create DIY courses using your smart phone too.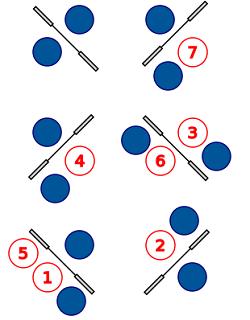 So here are quick links directly to the new Do It Yourself sequence web pages:
I hope you enjoy using them in your training. I'm working on a lot of ideas for AgilityCourses.com but I'd love to hear what new features you'd like it to have. If you are a FaceBook user you can get advanced notice of new features on my AgilityCourses FaceBook page.
Related Articles: