T Shirt Anxiety Wrap to Help Your Dog Cope With Loud Noises
04 Jul 2010Steve Schwarz

Meeker is very sensitive to the sound of thunder and fireworks.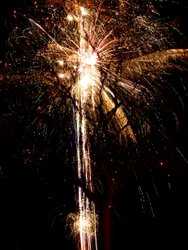 I've taken to doing three things to help Meeker cope with these sounds:
Apply aromatic herb oils to his head/ears (Peace and Calming seems to work best for him)
Put him in a room with white noise and other noises (air conditioner/TV/radio on)
Wrap him in a homemade thunder shirt
He is also better if he can be distracted by playing with his brothers. But with his back injury he can't play with them this 4th of July.
I threw together a quick video showing how I put a small T shirt on him and hold it snug using a plastic clip for keeping snacks fresh in their bags. You can also just grab two ends of the shirt and tie them together. Just be sure to put the knot on the top of your dog's back so they can lie comfortably on their side.
Related Articles: