Go Jimmy Go Again
19 Aug 2009Steve Schwarz
Well by popular demand, Nancy got Meeker his very own Go Jimmy Go T shirt. The store she ordered it from in Hawaii put some Go Jimmy Go stickers and a Japanese SKA Band CD into the box along with the T shirt. We had him model it facing forward since he has to practice his begging as part of his core strengthening exercises for his butt rehab: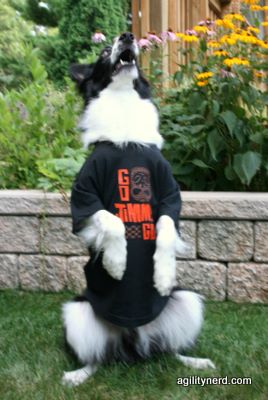 I also put it on him today when thunderstorms came through so he looked snappy while getting some calming effect from the body wrap effect of the shirt (I collect up the bottom end of the shirt and clip it to hold it snug to his body). Seems to work pretty well for the little guy.
If you enjoyed this article won't you please:
Thanks!
Related Articles: