Our 2013 USDAA NC Regionals: Bah Bye - Videos
25 Jun 2013Steve Schwarz
Well it's been a month now and I hadn't yet posted any details on our adventures! I had two goals for this regional competition: earn "byes" into the Cynosport semi-finals in Steeplechase and Grand Prix.
A short digression for non USDAA folk. Nationals (aka Cynosport) now has four competitions taking place:
Steeplechase: a fast, flowing course typically containing a single contact (A Frame) and the weaves.
Grand Prix: a challenging Standard course.
Team/Pairs: a five event competition of Standard, Jumpers, Snooker, Gamblers, and Relay where team scores are the combined scores of all the dogs on all 5 courses.
This year adds Masters Challenge Biathlon: which combines scores of "international flavored" standard and jumpers courses.
To qualify for everything you need two Grand Prix Qs, two Steeplechase Qs, one Team Q, and one MC Standard or MC Jumpers Q. Once qualified for GP or Steeplechase you would start competing in the Quarterfinals round at Cynosport. But if you get to the finals in a regional competition in one/both and have a fast enough qualifying time you earn a "bye" and start competing in the Semifinals round at Cynosport - only one step from the finals.
So if you can afford the time, travel, money and have a reasonably fast dog it can be worthwhile to go to a regional competition to try to earn byes for GP and Steeplechase. Courses at a regional competition are also more difficult than a local trial so you also get a little practice on courses more like those at Cynosport.
So I only needed to compete in the Regional GP/Steeplechase rounds. But I also wanted an opportunity to have him warmed up on the surface and get on all the equipment prior to those runs. Team is interspersed over the two days of the two GP/Steeplechase rounds and often used for that purpose. Besides it is a lot of fun if you have good team mates. Last year we did team and Meeker just barely made the cut to earn his Steeplechase bye so I wanted him as fresh as possible. So I entered Friday's local GP/Steeplechase and Sunday's Masters Challenge runs to warm him up.
Friday "Local" GP/Steeplechase
So I tried to be a good trainer and treat these runs as warm ups… The Steeplechase course was "Fast and Furious" Meeker didn't quite make it over the broad jump and ticked it. On Grand Prix I was intent on making sure he got his contacts (holding my criteria!) - then after the A Frame I cued full extension over the next jump and used a huge call off to save the Q - good dog!
Here's the video:
Saturday Regional GP/Steeplechase Round 1
All of the Regional courses are posted on the USDAA site . Here is Saturday's Grand Prix Round 1 course:
Grand Prix Round 1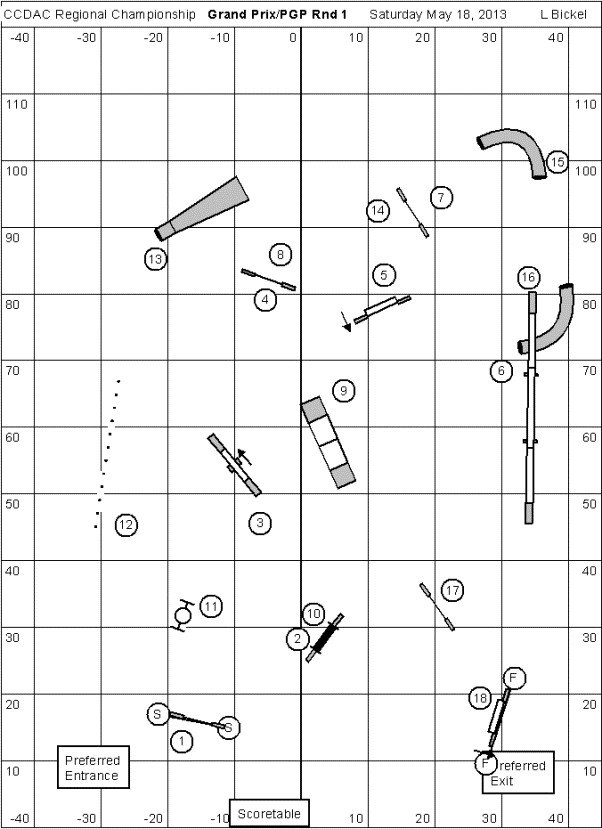 The GP course was what I'd call a "question of sides" - there were multiple handling options for every turn and most could be handled from either side. There was only one discrimination at 15 to 16. I thought it was a classic GP course.
I was a little concerned about Jump Wrapping Jump Wrap Handling TipsJump Wrap/WrapJump Wrap Handling - With Video the wall jump but it wasn't an issue. It was really "meat and potatoes" handling and a little Handler Focus on the approach to the dog walk. I held his contact and Rear Crossed the last jumps. We Q'd and passed through to round 2/final round. See the video below for all our runs.
Here is the Steeplechase course:
Steeplechase Round 1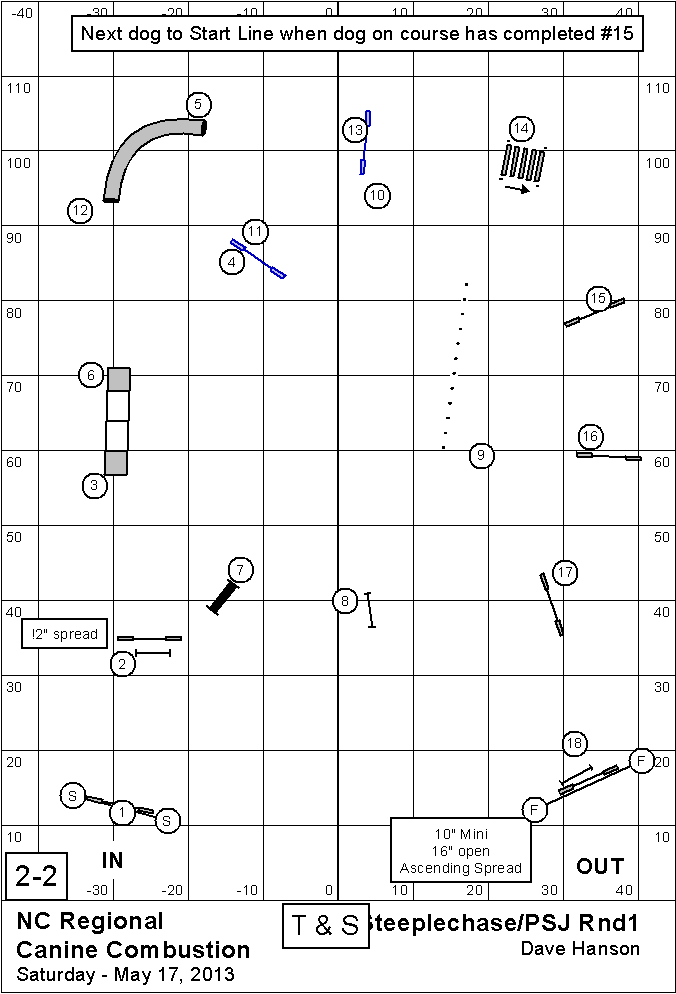 The Steeplechase course was also a "classic" Steeplechase style course: fast with some subtle challenges. The push out to 10 seemed further that you'd expect when you walked it - I remember consciously forcing myself to take another step. Then there was long haul around the outside to the end of the course.
I was one of the few handlers who started dog on right - so I could push across the end of the A Frame to be there when Meeker came over the top. Held back so he could hit the entrance of the weaves. Front Cross 10 - 11 and then dog on left and run like hell! I let up on the next to last jump to Rear Cross the last jump - wanted to be sure he got it! Round 1 is all about running clean. We Q'd and passed through to the 2nd/final round.
Sunday Regional GP/Steeplechase Finals
I enjoyed Dave Hanson's Masters Challenge Standard course
and used it as a warm up run for the two finals runs. It was good to get on all the contacts and to click with Meeker on a challenging course.
Here's the Grand Prix Finals course:
Grand Prix Round 1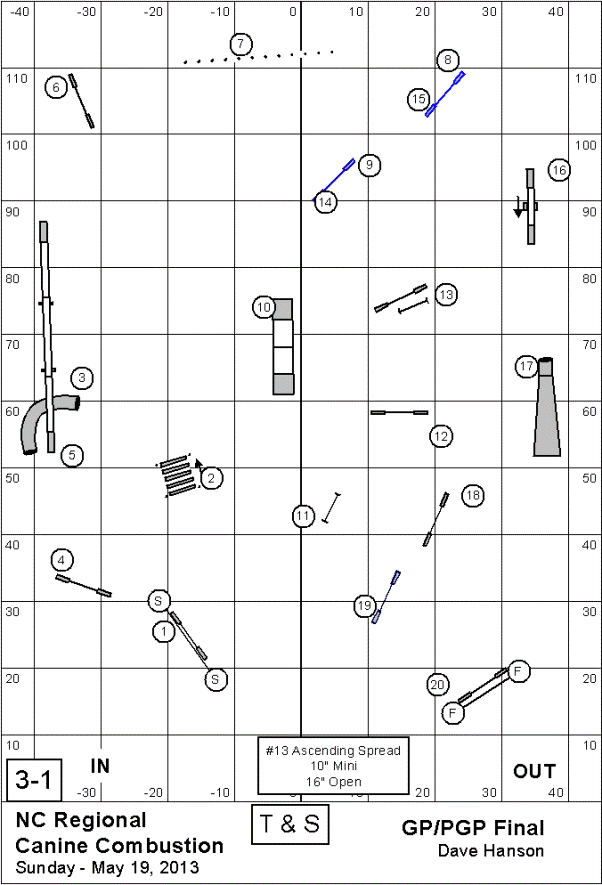 The opening wasn't hard but you wanted enough speed/extension over the broad jump and into the tunnel and be in position at 4 to cue a good wrap. On paper it looked like wrapping the dog to their right might be a better line to the DW (with risk of the tunnel) but in reality turning left at 4 was fine. What was unexpected was how many dogs missed the DW up contact. Most handlers were driving forward and dogs jumped over the contact - including Meeker - I didn't see the call and thought I'd Q'd it when I got to the end… A lot of options of where/how to cross when handling 12-14. Otherwise a pretty good run and Meeker was running more like his usual self.
For a play by play analysis of my run and slow motion of the up contact here's the video.
Here's the Steeplechase Finals course:
Steeplechase Round Finals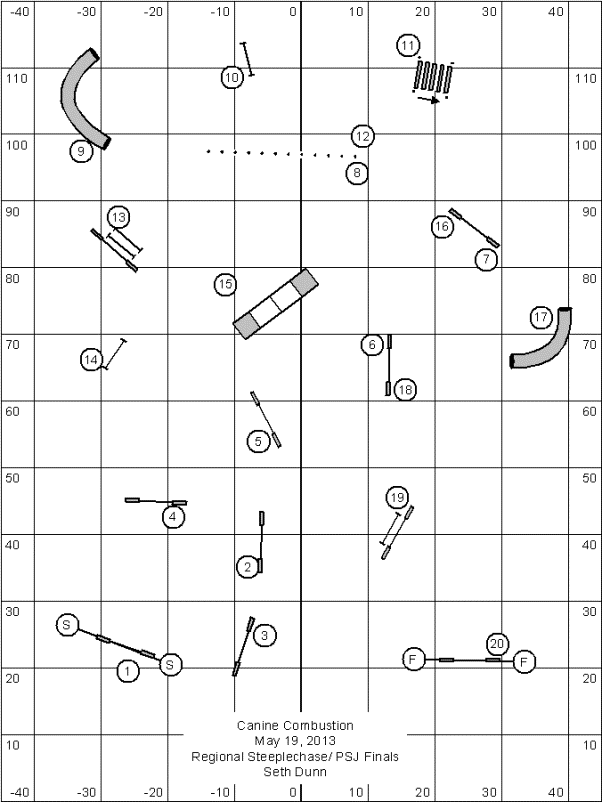 The opening was a little "weird". You wanted relative collection through those turns at 2 and 3 and then a cross 4-5 or 5-6. The wrap on the broad jump was a nice challenge and good to practice! Then a couple crosses and a run to the finish. We were clean and ended up in 11th place to earn one of the two byes I was hoping for.
Here is video of all four runs:
I'm happy with our performance. I'm always concerned when Meeker isn't running as fast as he can. I'm always afraid an injury is to blame. But this time I think he was just sensitive to surface conditions. At Cynosport last year he was much slower on the turf than on the grass rings and it took him a while to adjust there too. We didn't meet all of our goals for this Regional but 50% is something to be happy about. I was also thrilled with our unexpected 3rd place in Master Challenge Standard. So I've decided to go to the Kansas Regional to try to earn that final GP bye. Besides, I've never been to Kansas!
If you enjoyed this article won't you please:
Thanks!
Related Articles: