Meeker Is Two
28 Mar 2007Steve Schwarz
Happy Birthday Meeker!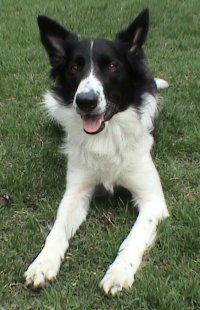 Copyright Steve Schwarz
Since Meeker was an owner relinquishment to Mid America Border Collie Rescue he has papers from his breeder that give his birthday as March 28th. So he is now two years old. We didn't have a big celebration. My "joke" reply to the question of "What did you get him for his birthday?" is "I let him live to be two years old". Actually his present was we got four full agility runs at For Your Canine since our class was sparsely attended. Meeker certainly likes to rocket around an agility course and quiver with excitement watching the other dogs. So I guess that was a pretty good present.
In reference to my joke, Meeker and I did a lot of learning and growing this past year (well we've only really been together for 11 months) and now I can honestly say I really love the little guy. He doesn't have a mean bone in his body and his "transgressions" were only due to his unbridled enthusiasm and his ever improving self control.
This past year was focused on helping him develop some self control and working on our developing a trusting relationship. The next year will have the same goals. He has most of the agility basics figured out, some basic obedience skills, and he has the makings of a pretty good Flyball swimmer's turn. So if he continues to improve at self control we could start agility trialing at the end of the summer or this fall. So in spite of the jokes, he has come a long way in only 11 months.
I'm looking forward to the next year!
If you enjoyed this article won't you please:
Thanks!
Related Articles: