Meeker is 4
29 Mar 2009Steve Schwarz
Yesterday was Meeker's fourth birthday, that means we've been together for just under three years.
So I didn't doing anything special for his birthday. We went to Anne's agility class like usual and due to the small turnout we had four runs through the course.
Meeker did give himself a present though. I had let him out into the yard while I carried in some firewood. When I came back to the door he was in the corner of the yard looking at the ground and just when I realized what he was up to he flopped himself on his side. I yelled for him and he rocketed right up to me… with raccoon poo mashed into his neck fur. So I gave him a present of a cold water mini bath outside before I let him in the house.
Meeker is the only one of the dogs with any interest in rolling in stuff. He knows he'll get in trouble, and he always looks remorseful when he does it, but he still does it anyway. It's like he can't help himself. He is like Roger Rabbit and his "shave and a haircut".
Being the considerate one, Nancy had local artist Christy Freeman from Christy! Studios make a wonderful watercolor painting of Meeker and we picked it up today. So it was her birthday present for Meeker: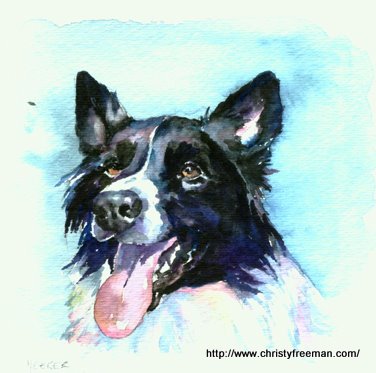 So Happy Birthday Meeker! (aka Meek, Me, Jimmy, Jimmy Jams, J, Sneaky Meek, Sneaky, Snee, Pickles, and Clausen)
If you enjoyed this article won't you please:
Thanks!
Related Articles: