"Puppy"'s First Week
26 Sep 2011Steve Schwarz
Well "Puppy" has been with us for a week now and so much has gone on. He got carsick on his ride home. His eyes checked out OK. His trip to the vet also resulted in carsickness and apart from one undescended testicle and some ear wax he was pronounced in fine health!
He lives in the dog room in a crate with an expen attached to it so he has room to charge around. Remarkably he hasn't had any accidents in the house and has been going 7 hours overnight without a peep. He is a little whiney in his "house" when he can see you, but has been getting better since he is only let out when he is quiet. He likes to play with people and other dogs and he is just a great little guy!
Here are some pictures from this week: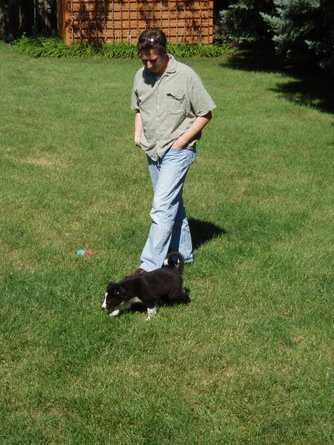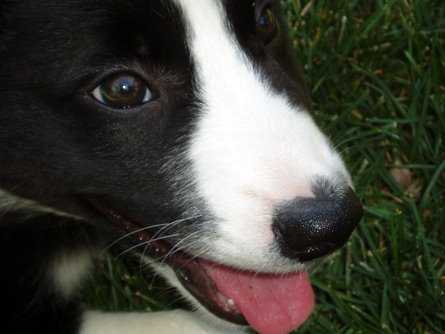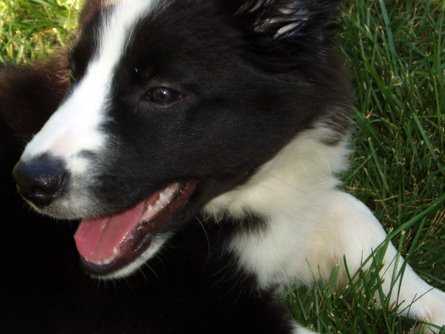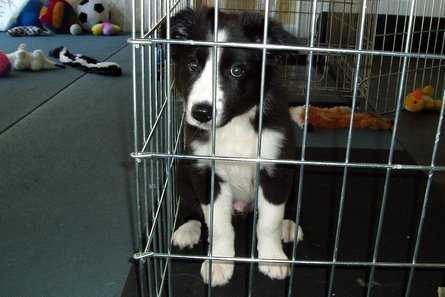 Interacting With the Other Dogs
As we expected Milo ignores the puppy and we try to keep the puppy from jumpimg on him or getting in his space. Milo is pretty oblivious to other dogs and would just as soon they don't interact with him. As long as the puppy doesn't push him there is no chance Milo's lack of subtlety in correcting him would cause the puppy to get injured. Once the puppy is past the jumping on older dogs stage they won't have any problems. Meeker doesn't care much for the puppy, he was an only dog here at my house for 5 years. So we are letting them interact in controlled environments where Meeker can get away from the jumping puppy. Meeker is showing some resource guarding with the other dogs so we are controlling access to all valuable resources until he adapts to the new situation.
Not surprisingly, Petey is wonderful with the puppy. He is giving the puppy his "passport" and allows the pup to steal his toys. He'll let the puppy chase him and even has gotten the zoomies himself a few times. But he'll also give little growls when the puppy oversteps the limits, and puppy understands… So we let the two of them play in little bursts whenever possible. Saw them both sleeping yesterday afternoon. Here is some video of them playing together:
Training
It looked like he might only like toys and not treats, but Frozen Bil-Jac to the rescue! He loves it.
I took him to Meeker's agility class and he got to play with Dana's Swindle a little. He got a lot of petting and treats in his crate for staying quiet while other dogs ran the course. He was quite a good boy.
Little dribs and drabs as they happen, only a couple minutes at a time:
Chase me
Come to hand
Sits and Downs
Tugging
Retrieving
Walking on leash - using come to hand to try to keep him on one side or the other.
I tried him in Meeker's larger crate in the car on a few short trips and he showed no signs of car sickness. The puppy crate he was in didn't let him see too much around him, being able to see more seemed to help him. So I've put both crates back in the car.
We start our first night of "Puppy Class" tonight at For Your K-9 so that should be fun!
If you enjoyed this article won't you please:
Thanks!
Related Articles: