Snippet: Chute/Tunnel to Spread Jump
20 Feb 2009Steve Schwarz
There is a pretty common challenge created by following a chute or tunnel with a double, triple or broad jump. The challenge is due to the dog having its head down while going through the chute/tunnel and then getting its head up in time to see and prepare for clearing the longer jump. This mostly affects the bigger dogs as they have to duck to navigate the tunnel and may keep their gaze down for an extra fraction of a second as they come out. The challenge can effect all dogs when the chute precedes the jump, although the smaller dogs will have more strides to adjust (since the minimum distance between obstacles is typically independent of jump height). Here are some examples showing this setup:
Chute/Tunnel to Spread/Broad Jump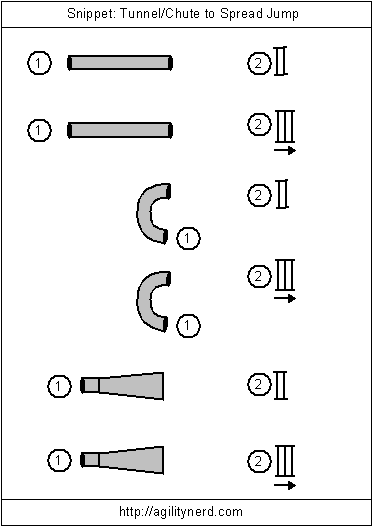 If you play around with the distance from the chute/tunnel to the jump you can make this more or less challenging. Depending on the sanctioning organization the minimum distance from the end of the tunnel/chute to the jump will be between 16 and 21 feet.
Changing the orientation of the chute or tunnel to the jump to increase the dog's speed or hide the jump from the dog while they are in the tunnel also increases the difficulty.
For some dogs the tunnel or chute to the broad jump can pose the same challenge although the dog doesn't have to elevate as much as they have to extend forward to clear the jump.
To address this challenge some handlers will tug on the Verbal Leash with a name cue to get their dog's head up and focused on them as the dog comes out of the tunnel. Just something to keep in mind while you are training and walking courses.
If you enjoyed this article won't you please:
Thanks!
Related Articles: