Nested Masters/Master Challenge/Novice Fun Run Courses
28 May 2014Steve Schwarz
I dreamt up these nested courses for the Meeker's Pals Memorial Day Fun Run and they include all sorts of fun challenges. The equipment was already set up at Agility at the Farm when I arrived. Since we would have AKC and USDAA/UKI competitors I removed the table, tire and used the short AKC chute (less stuff to adjust!). I wanted the entrance on one side and the exit on the other to ease dog/handler flow in/out of the ring too. I set the Novice numbers first so I could be sure it would be mostly flowing and safe. Here's the Novice course (obstacle locations from my memory - adjust them for your space and safety):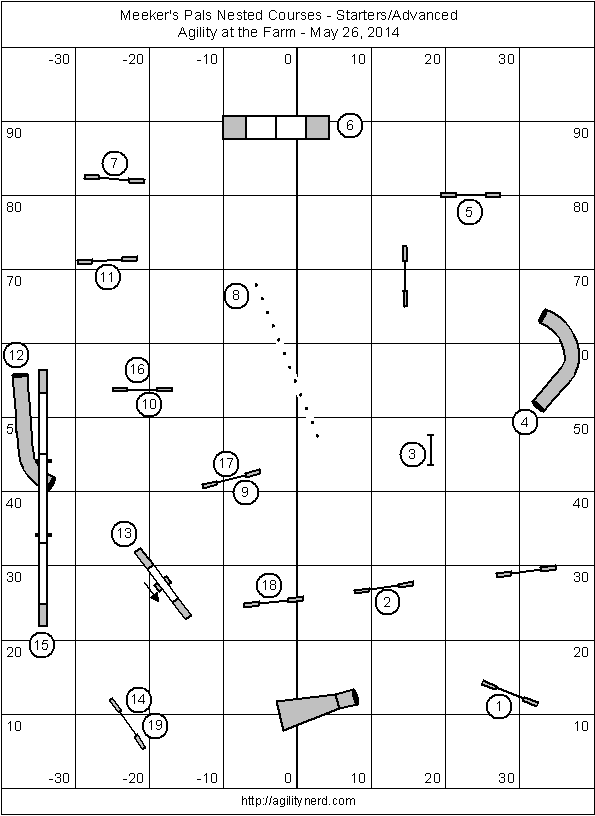 Then I put out the numbers for the Masters teams. I used an idea I learned from Dana Pike: I put the cones on the edge of some jumps as a sign to the handlers that they could choose to send their dog to the front or back side of those jumps. That made the sequence a little more challenging for folks who wanted to work on "Masters Challenge"/"international" challenges (shown as black circles in the course diagram).
I originally ended the sequence at obstacle 21 on the same jump as the Novice sequence. Then I realized I left out the dog walk! That's the problem of making it up on the fly (I've been doing that in my classes every week for over 10 years without forgetting a contact!). So I added the dog walk and the turn to the tunnel on the end. That also let people work the teeter one more time if they wanted. In the diagram below I've added numbers in white squares so you can also choose to end the sequence the same way as the Novice sequence.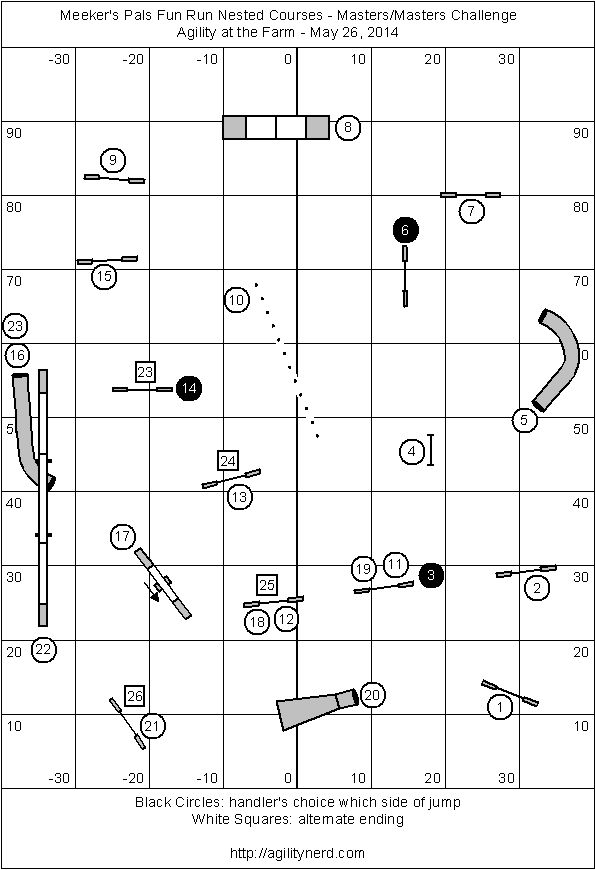 When I walked it I liked the flow and the combination of tight and open sections.
The similar opening/closing made it possible to walk through and run Novice and Masters teams at the same time. To accommodate USDAA and AKC A Frame heights we ran 26/22, 24/20/16/14/12, and then 8/4. Judging by the kind comments, everyone seemed to like these courses and the challenges they presented.
After running the Masters sequence with Flyer and the Novice sequence with Petey I realized just how fast it is! We got a bunch of runs on it throughout the day and I played around with alternate handling approaches for the various sections. I do have to say my butt was sore after charging through the fast sections!
If you enjoyed this article won't you please:
Thanks!
Related Articles: