Big, Fast, Fun Masters Course
15 Oct 2014Steve Schwarz
Until I arrived to set up a course last night I forgotten that I would have access to the whole training space for my course. With all the rain and traffic I only had 20 minutes to drag some obstacles around and come up with a sequence. I got to test it out with Petey and Flyer and with a couple quick tweaks it was a blast.
Like the last class course I posted this one works on all the standard handling skills: independent obstacle performance, Jump Wraps Jump Wrap Handling TipsJump Wrap Handling - With VideoJump Wrap/Wrap, Serpentine Serpentine Handling TechniquesSerpentine Sequence or Threadles Mary Ellen Barry on Threadle HandlingThe Connection Between Threadles and Back SidesSingle Sided Threadle HandlingTraditional Threadle HandlingThreadle Sequence/Back Sides Handling the Quad Back Side - Patrick Bucher Course/VideoThe Connection Between Threadles and Back SidesBack Side/Back Side JumpBack Side of Jump Handling Combinations - Video with the possibility for some "international" handling approaches. The main thing to note about this course is it is wide open and covers over 200 yards! So if you want to work on some long fast lines and going for some Blind Crosses to get/keep ahead this is the course for you:
Class Course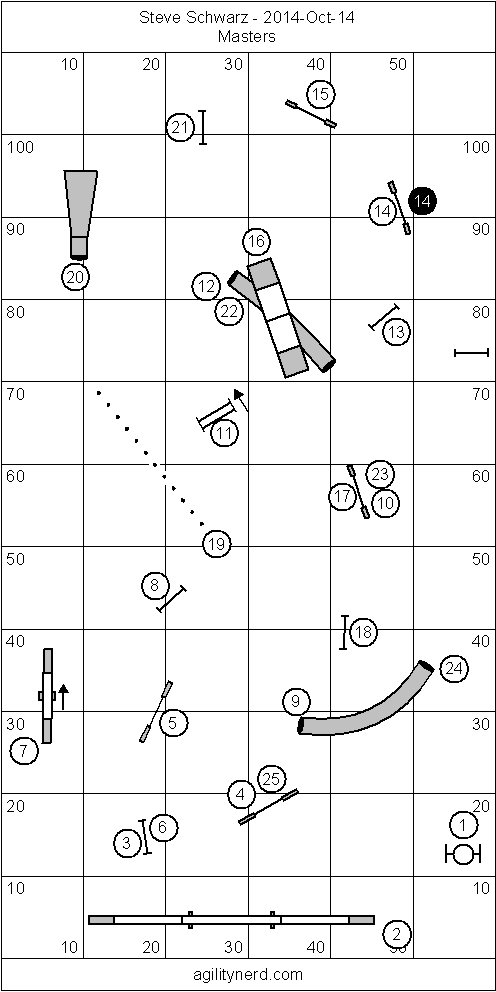 Obstacle Legend
Here's how it looks at For Your K-9 the posts make the course layout/handling a little more challenging for obstacles 8, 15, 18 and 21…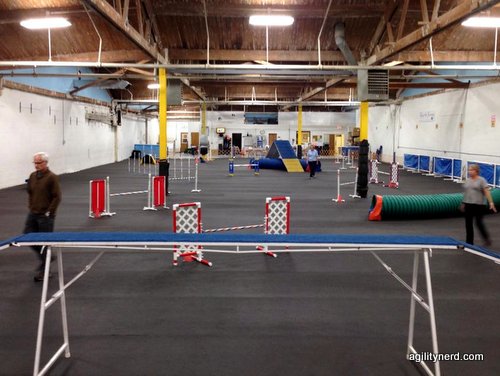 A few handling notes:
Play around with wrapping your dog right and left at jump 4. For larger dogs it can be faster to turn them left (they stay in extension longer than doing the 360).
Stay tight to 5 to control the wrap for the push back to 6.
Try to run the green line in the diagram below for 7-11 with Blind Crosses over 8 and 10 at the "X"s (Front Crosses work too if you are quick). No handlers needed to go all the way in to the tunnel at 9; your motion toward the far jump standard of 10 will support the dog's line to the back side.
Once handler's got ahead at 10 some could keep going to the entrance of the tunnel and use a Front Cross Learning the Front Cross - VideoFront Cross to put the dog in the tunnel and have the dog turn left coming out of the tunnel... (see blue handler line below).
Alternately, send over 11 and support the tunnel and then Blind Cross the tunnel exit and drive to the near upright of 14 so the dog sees you supporting the back side of 14 (assuming the black circle 14) otherwise it is just a Serpentine (red handler line below).
All three crosses (Front, Rear, Blind) are possible on the landing of 16. Show deceleration and connect with your dog to get the turn to 18 and avoid the off course tunnel.
Can you get your dog to take tunnel 22 with just a dropped shoulder and call to side so you can drive forward and support the long line to 24?
Class Course Handling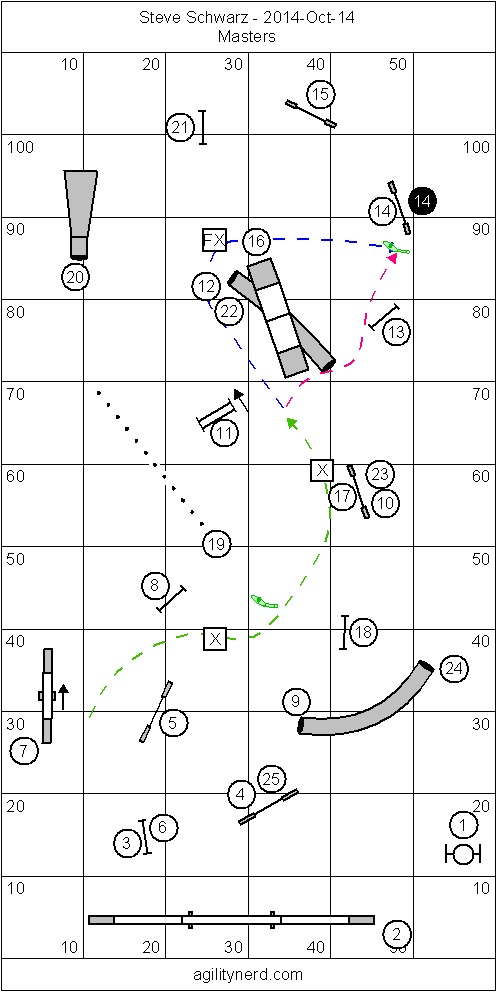 I'd love to see your videos!
Please remember Meeker and help other dogs with cancer if you use this course in your classes:
If you enjoyed this article won't you please:
Thanks!
Related Articles: