Dana Pike - Fun to Run Course
07 Dec 2010Steve Schwarz

Dana Pike came up with another course I really liked this week. This sequence had a Pin Wheel, Jump Wraps Jump Wrap Handling TipsJump Wrap Handling - With VideoJump Wrap/Wrap, a Threadle Mary Ellen Barry on Threadle HandlingThe Connection Between Threadles and Back SidesSingle Sided Threadle HandlingTraditional Threadle HandlingThreadle Sequence weave approach and multiple off course challenges.
Course Setup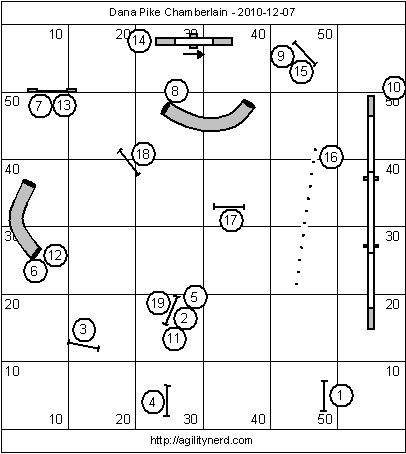 Course Opening Options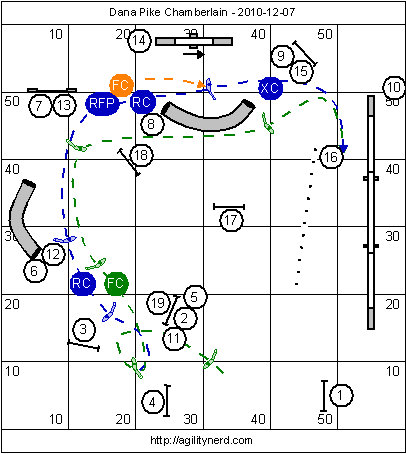 Dog on right Shoulder Pull/Post Turn through 4. With the long distance from 1 to 2 and the straight line to the off course tunnel it is important to cue collection after 2.
Green handling: Front Cross over 5 closer to the tunnel (which puts you ahead on the way to handle the off course after 7) or Blue handling: Rear Cross on the approach to the tunnel.
Working 7-8:

Blue: Reverse Flow Pivot to gather the dog and Rear Cross the approach to the tunnel. Then Front/Rear/Blind cross the approach to 9.
Orange: Front Cross to set the line to 8. Then Front/Rear/Blind cross the approach to 9.
Green: Throw the dog over 7 and move laterally with a push over 9. The key is to not go any further to 7 than absolutely necessary; that together with your motion toward 8 (maybe even a verbal) should draw the dog to the tunnel.
Course Closing Options
Green line - At the end of the dog walk jump 1 is a potential off course, turn hard and get the dog's focus as you drive forward down the line to the tunnel. Then it is just dog on left all the way to jump 15.
Blue Line - Front Cross the end of the dog walk to keep it out of play and drive to the tunnel. Over the 50 foot run most dogs are ahead of the handler so a Rear Cross is required on the tunnel approach.
15-16 is really a Threadle. So you can handle it on your right arm and rotate out as you approach the weaves (shown in green). The blue line shows how you can Front Cross over 15 to avoid the off course dog walk but then you have to Wrap/Scoop the last weave pole.
Then it is just "Throw and Go" over 18 and run to 19.
Run this course and let me know how it went for you. Meeker and I had a blast, thanks Dana!
If you enjoyed this article won't you please:
Thanks!
Related Articles: