Dana Pike - Awesome Course with Video
17 Jan 2011Steve Schwarz
I've said it before, but you have to set up this Dana Pike course. If you don't have room for the whole thing at least set up 5-10, that's the really fun part. This sequence had Serpentines Serpentine Handling TechniquesSerpentine Sequence, a Threadles Mary Ellen Barry on Threadle HandlingThe Connection Between Threadles and Back SidesSingle Sided Threadle HandlingTraditional Threadle HandlingThreadle Sequence, a Back Side Handling the Quad Back Side - Patrick Bucher Course/VideoThe Connection Between Threadles and Back SidesBack Side/Back Side JumpBack Side of Jump Handling Combinations - Video, Obstacle Discriminations and Jump Wraps Jump Wrap Handling TipsJump Wrap Handling - With VideoJump Wrap/Wrap. Dana is more designing courses for practicing for USDAA IHC classes so we'll be working on courses with an "International flavor". Jim was kind enough to video tape Meeker and me on our two runs where I tried a couple handling options.
Course Setup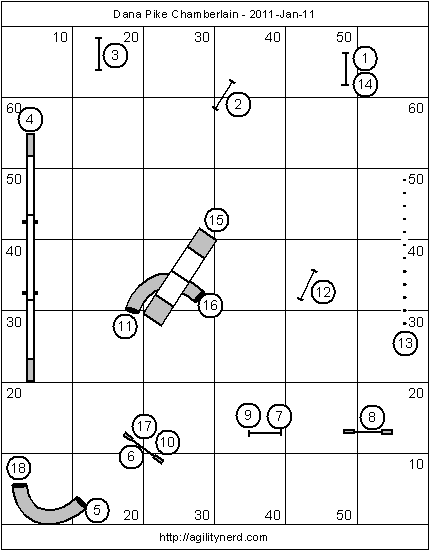 Obstacle Legend
Here are some handling notes:
The opening 1-4 has an almost unlimited number of handling possibilities from dog on handler's right to multiple Rear Crosses Learning the Rear CrossRear Cross. The RC can set a nice turn for 4 but puts handlers behind; which can be a problem for slower handlers of fast dogs with running contacts.
Front Cross Learning the Front Cross - VideoFront Cross or Shoulder Pull Learning the Post TurnPost Turn/Shoulder Pull/Pivot Turn the dog to 5.
6-7 is the kind of jump layout where it looks like using Single Sided Serpentine should be beneficial. But Dana pointed out you really need to pay attention to the dog's view coming out of the tunnel. The dog sees the wrong side of 7 as soon as they take a stride coming out of the tunnel. I tried to compensate for this in my first run but was out of position for 7-8.
Handling 6-7 with the dog on your left and using a "Backy Uppy" (aka Reverse Front Cross) Jump Wrap to cue a collected jump wrap over 7 worked wonderfully.
Then it is just a Shoulder Pull around to 8 and a Front Cross Jump Wrap; I showed Meeker a right arm before he took the jump so he knew I was wrapping.
Then Front Cross on the take off to 7 and dog on left all the way to the tunnel.
There are three main ways to handle the Back Side jump at 12: 360 degree shoulder pull, Across the Feet and a Front Cross Jump Wrap turning the dog to the right over the jump (which makes the weave entrance sharper).
The rest is straight forward; although I had trouble correctly cueing tunnel 18 as you'll see!
Here is video of our two runs on this course, warts and all!

I hope you run this course and let me know how it went for you. Thanks again Dana!

If you enjoyed this article won't you please:
Thanks!
Related Articles: