Fast Masters Discriminations
22 Oct 2014Steve Schwarz
I wanted another open and fast course for last night's class and I worked in some tunnel discriminations and weave pole entry challenges; it was fast and fun!
Here's the course (run the black circles for more challenges):
Class Course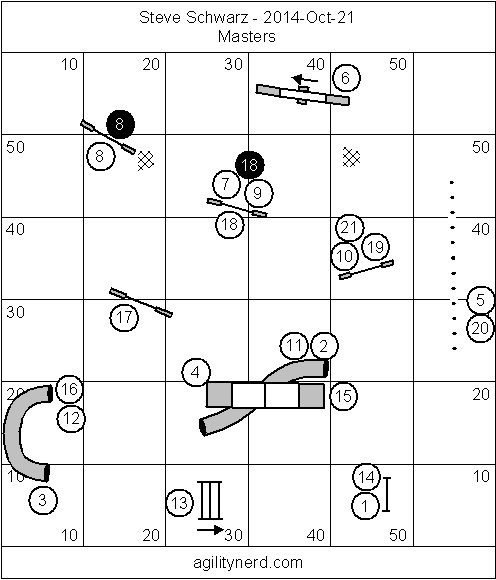 Obstacle Legend
Here are some handling thoughts:
Try to send to tunnel at 2 (show good motion and use verbals) so you don't get stuck running around the A Frame.
Dog will turn left coming out of tunnel so drive forward to show a good line to 3.
Front Learning the Front Cross - VideoFront Cross or Blind cross on approach to A Frame or I liked Rear Cross Learning the Rear CrossRear Cross on flat after A Frame to set nice turn to weaves.
7-10 you should be able to handle it from either side. If you handle on the teeter side can you (should you) tighten up the turn from 10-11 with a Ketschker?
Once

Flyer

was in tunnel 11 he locked on to the wrong side of the next tunnel... what cues will you use?
My Open students ran the white circle 18 and they could stay further back toward the tunnel to tighten up that turn. My Masters students needed to be further down the line to support the back side (black circle 18).
Rear Cross on the flat got the best weave entry at 20.
This one was really fun to run and I hope you try it out. I'd love to see your videos!
Please remember Meeker and help other dogs with cancer if you use this course in your classes:
If you enjoyed this article won't you please:
Thanks!
Related Articles: