Advanced Class: Not Evil Courses - 16-Feb-2011
21 Feb 2011Steve Schwarz
Here's a course setup with two sequences containing Jump Wraps Jump Wrap Handling TipsJump Wrap Handling - With VideoJump Wrap/Wrap, Pull Throughs, Threadles Mary Ellen Barry on Threadle HandlingThe Connection Between Threadles and Back SidesSingle Sided Threadle HandlingTraditional Threadle HandlingThreadle Sequence, a Pin Wheel, and general handling from my classes this week at For Your Canine.
Sequence 1 Setup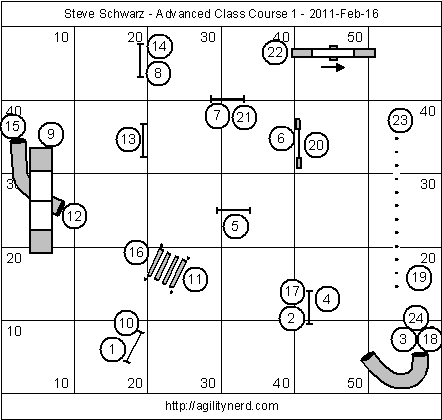 If you only have a small space look at 4-8 or set up a tunnel (to get your dog up to speed) and then do 5-8. Here are some quick handling notes and a handling diagram for the first sequence.
Start out dog on left and Shoulder Pull to 3.
Get moving as soon as your dog is in the tunnel.
You want your dog to see you moving to the Front Cross Line between 5 and 6. Every handler in class could get there - I know you can too!
6-7-8 had three handling options shown in the diagram below.
10-11-12 also had at least three options:

Shoulder Pull around 10 to 11 and then Rear Cross the tunnel entrance
Shoulder Pull around 10 to 11 and then Front Cross the approach of the broad jump... doesn't set a good line for the dog over the broad jump if you are late
Send the dog over 10 and then Front Cross the landing of the broad jump. This worked really well and got the handler ahead of the dog coming out of the tunnel.

Talk to the dog in the tunnel to get a tight Front Cross on the exit.
Get moving down the line as soon as the dog commits to the tunnel at 15.
Front Cross the exit of the weaves.
Front Crossing the end of the teeter allowed the handler to keep driving forward.
Sequence 1 Handling 5-6-7-8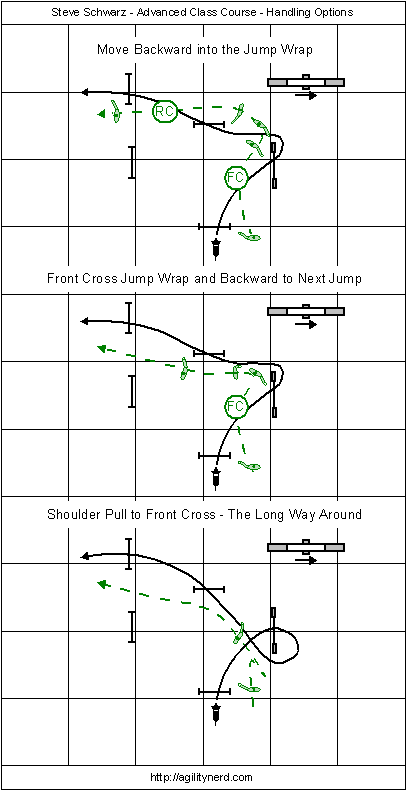 Sequence 2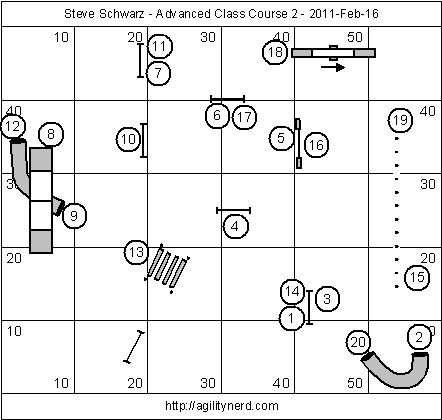 Sequence 2 is mostly the same as Sequence 1 and was actually the first sequence we ran. It works a wrap from the A Frame to the tunnel and a long run to the weave entrance instead of the tunnel. The later is a good test of the use of deceleration cues.
I do want to hear from you if you set up these sequences!
If you enjoyed this article won't you please:
Thanks!
Related Articles: