Advanced Class: I Like This One - 30-Mar-2011
31 Mar 2011Steve Schwarz
Here's a challenging sequence containing a Pin Wheel, a Threadle Mary Ellen Barry on Threadle HandlingThe Connection Between Threadles and Back SidesThreadle SequenceSingle Sided Threadle HandlingTraditional Threadle Handling, a bunch of Jump Wraps Jump Wrap Handling TipsJump Wrap/WrapJump Wrap Handling - With Video and some interesting handling options from my Advanced classes this week at For Your Canine. I really liked this sequence! I've written up some handling notes, let me know if you have any questions.
Advanced Class Sequence 1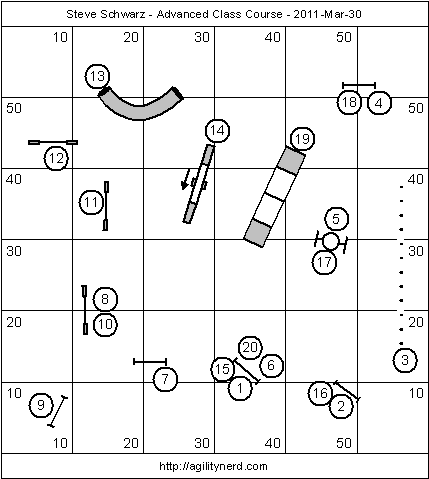 Success on this course depended on a knowing you/your dog's skills and cueing collection when needed. Here are some handling notes:
Dog on right 1-4 turning the dog to their left on the wrap over 4.
Can you get in position for to a clean Front Cross Learning the Front Cross - VideoFront Cross on the landing of jump 7? Does it help you? A Rear Cross Learning the Rear CrossRear Cross is probably just as good(?) Our teams were just as successful either way. Try and see for yourself.
A number of options for 8-12...

Pick dog up on your left arm on the landing of 9 (don't go all the way in to the jump!) and handle through 11 like a Single Sided Serpentine and then

Scoop

at the top jump standard of jump 11 to push your dog to 12. Takes a handler faster than their dog. Worked a treat.
My fave was dog on handler's left from landing of 9 through 10 and then the handler drives to the take off side of 11, Front Crosses just steps backward (Backy-Uppy) jump wrap 11 (it is just a jump wrap after all) and then step forward/turn to 12.
Being on the landing side of 8 and handling the dog on the handler's right was possible but the offset of the jump made it hard to get the dog over 10 and then still push/wrap 11.

Handle the tunnel from the backside (you don't need to go to the opening side at all)
Front Cross the take off of 14? Probably better than Rear Crossing the end of the teeter.
Can you Front Cross jump wrap 16? Tightens the turn and keeps the dog out of the off course weaves. Also makes line to 17-18 a little nicer. Requires a Rear Cross to wrap your dog over 18.
Alternately, if you just Shoulder Pull Learning the Post TurnPost Turn/Shoulder Pull/Pivot Turn (keeping your dog on your right) you need to get ahead over the tire or you'll collide with your dog or have an ugly push to 18.
It ran a lot nicer than it looked and once again my students did a really nice job. I love teaching this class!
As usual I do want to hear from you if you set up this sequence! Come on I know you are out there! Speak up!
If you enjoyed this article won't you please:
Thanks!
Related Articles: