Advanced Class: No Frills Course - 23-Feb-2011
24 Feb 2011Steve Schwarz
Here's a course setup with two variations on a sequence containing Jump Wraps Jump Wrap Handling TipsJump Wrap Handling - With VideoJump Wrap/Wrap, Pull Throughs, Threadles Mary Ellen Barry on Threadle HandlingThe Connection Between Threadles and Back SidesSingle Sided Threadle HandlingTraditional Threadle HandlingThreadle Sequence, a Pin Wheel, a Back Side Jump Handling the Quad Back Side - Patrick Bucher Course/VideoThe Connection Between Threadles and Back SidesBack Side/Back Side JumpBack Side of Jump Handling Combinations - Video and general handling from my classes this week at For Your Canine.
Sequence 1 Setup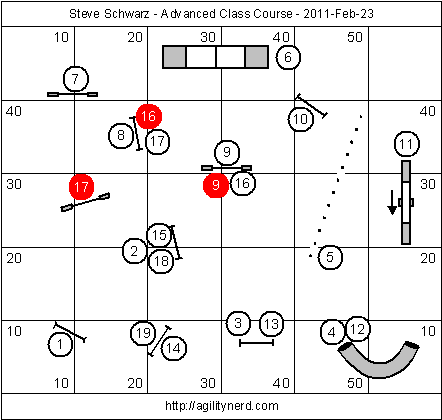 The red obstacle numbers were the original sequence and without the reds is the smoother course. Here are some quick handling notes for the first sequence.
Start out dog on left and Front Cross Learning the Front Cross - VideoFront Cross between 2 and 3
Show collection to 3 to get a clean turn into the tunnel
Weaves with dog on handler's left you can push on the last weave pole and Rear Cross Learning the Rear CrossRear Cross the A Frame approach or Front Cross the exit
Weaves with dog on handler's right you leave the weave entry up to the dog and Shoulder Pull Learning the Post TurnPost Turn/Shoulder Pull/Pivot Turn the dog to the A Frame
7-8-9 Front Cross Jump Wrap 9 and dog on left around to teeter
7-8- Red 9 for handler ahead of dog could Front Cross on take off of jump 9 and dog on left around to teeter. Or Push dog to back side of 9 and Front Cross across the face of the jump to have dog on left to teeter.
Rear Crossing 10 failed consistently the dog does (and should) turn to the weaves... unless you cross very close to 9 and push forward (use rear cross as a change of sides and not a turning cue - this is verboten in some handling systems)
Single Sided Serpentine 12-13-14
The rest of the course is all about Front Cross jump wraps - if you can get ahead and stay ahead
The back side of jump 9 was the stickiest spot and 2-3-4 took some finesse. But my students did a very nice job (once again!).
I do want to hear from you if you set up these sequences!
If you enjoyed this article won't you please:
Thanks!
Related Articles: