Advanced Class: Kinda Evil Courses - 09-Feb-2011
09 Feb 2011Steve Schwarz
Updated: now with optionally less evil!
Here's a course setup with two sequences containing 270 Handling 270 Degree Jump SequencesBack Side Entry to 270/Training Opportunity - Video270 Degree Jump Sequences, Jump Wraps Jump Wrap Handling TipsJump Wrap Handling - With VideoJump Wrap/Wrap, Pull Throughs, Threadles Mary Ellen Barry on Threadle HandlingThe Connection Between Threadles and Back SidesSingle Sided Threadle HandlingTraditional Threadle HandlingThreadle Sequence, Pin Wheel, and general handling from my classes this week at For Your Canine. There are a couple "sticky" spots but also a couple ways to handle them. You can run the dark green numbers instead for different challenges…
Sequence 1 Setup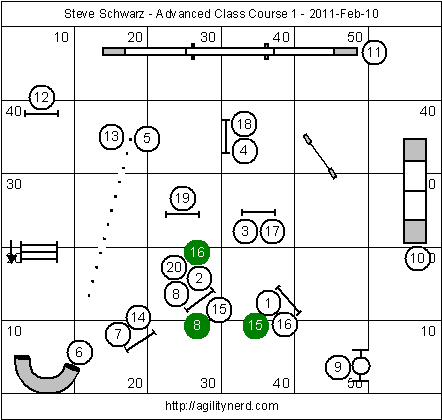 If you only have a small space look at 1-8 and/or 6-19 those are the most interesting parts… Here are some quick handling notes for the first sequence.
Start out dog on right and Shoulder Pull around the 270 and either continue the pull to bring the dog through the gap (and step back so you are behind the jump) or you use a Blind Cross Jump Wrap.
Just dog on right around to the tunnel.
7-8-9 has a few options - the challenge is setting the dog's line over 8 so they are turned toward 9 and not the off course 1-16:

For handlers faster than their dogs it is possible to use Single Sided Threadle handling where you rotate forward before 8 (dog then on your right) and "Scoop" the dog over/after 8 and push to 9.
Jump Wrap 7 (dog on left) and move dog through the gap and Front Cross at about where the number 20 and number 2 meet on the diagram, so you can get around the jump standard, that also turns the dog sharply and more toward jump 9.
Jump Wrap 7 with the handler on the landing side of 7 and push the dog to the Back Side of 8 and then Front Cross over the jump.
Least "stylish" and longer would be to turn the dog to the right over 7 and keep the dog on the handler's left making a 360 to jump 8 and the handler goes through the gap between 7 and 8 and then Cross Rear Crosses the take off of 9.

Jump wrap over 12 to the weave entry.
The most efficient handling of 15-16 is to treat it all like a Single Sided Serpentine where you must be ahead of your dog as it takes 15, then you can just push out to 16.
Then it is just dog on right for the Pin Wheel and final jump.
Sequence 2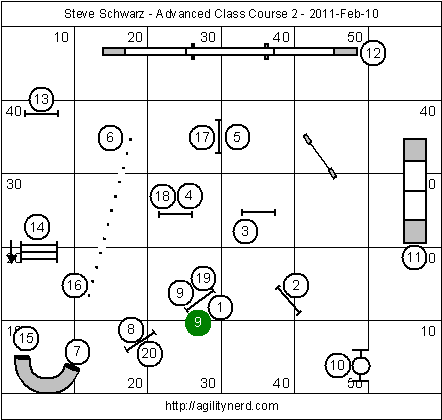 Sequence 2 is mostly the same as Sequence 1 except you get to work the 270 pull through in the opposite direction and immediately go into a 180 pull through. Also get to work on moving on a long line from the dog walk to the tunnel. Handlers who took it easy found their dogs curling in to them and taking the wrong tunnel entrance; so drive forward! Short fast weave entry out of the tunnel followed by a jump wrap into the final two jumps.
We spent a fair amount of time working on the different way to handle 6-9 in Sequence 1 and everyone got it. I've got an article and video in the works on the Blind Cross Jump Wrap in case you are unfamiliar with it.
As usual I do want to hear from you if you set up these sequences!
If you enjoyed this article won't you please:
Thanks!
Related Articles: