Advanced Class: Meat and Potatoes - 09-Mar-2011
10 Mar 2011Steve Schwarz
Here's a course setup with two different sequences containing 270s Handling 270 Degree Jump SequencesBack Side Entry to 270/Training Opportunity - Video270 Degree Jump Sequence, Jump Wraps Jump Wrap Handling TipsJump Wrap/WrapJump Wrap Handling - With Video, Serpentines Serpentine SequenceSerpentine Handling Techniques, a Threadles Mary Ellen Barry on Threadle HandlingThe Connection Between Threadles and Back SidesThreadle SequenceSingle Sided Threadle HandlingTraditional Threadle Handling, and general handling from my Advanced and Intermediate classes this week at For Your Canine. There isn't anything particularly ugly or tricky, good analysis and handling will get you through.
Advanced Class Sequence 1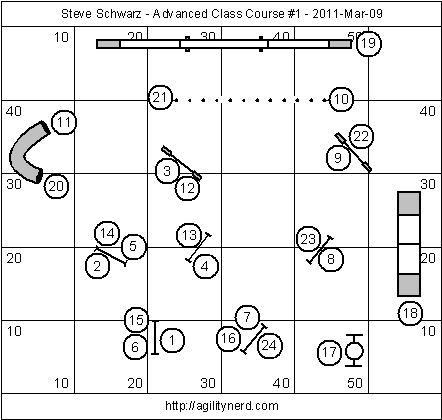 Here are some handling thoughts:
Dog on left 1-3, support the rear of the 270 and Front Cross on the landing side of 4. Experienced teams shouldn't need to step into the pocket. Are you out of your dog's way when you cross?
Can you Single Side Serpentine 7-9 (dog on right)? You need to get ahead for jump 8 and then show deceleration over 9 to get the weave entry.
Cue the jump wrap starting the Threadle at 12 and then Single Sided Threadle 13 where you keep your dog on your right arm all the way over 13.
Shoulder Pull around 14 and run dog on right all the way to the end of the dog walk.
This is tough on running dog walk handlers, but even a late Front Cross will get your dog to 20. Just don't verbally cue the tunnel if your dog is looking at the wrong end!
Be careful slowing/stopping short of the weaves if you are handling 22-24 with your dog on your left. Good independent weave pole test...
Advanced Class Sequence 2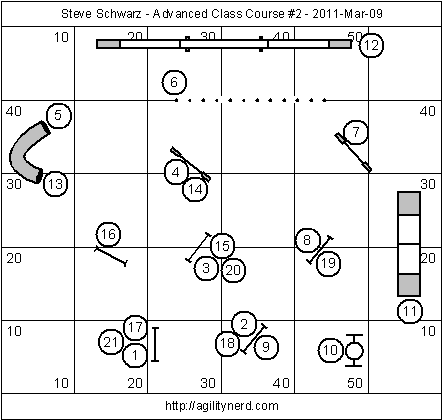 This course incorporates sections of the first sequence but also some changes…
Which way to turn your dog over 2? Possibly longer to turn to right but easy handling dog on right all the way to the tunnel. Turn to the dog's left you'll probably need to Rear Cross the take off of jump 14. Unless the handler is faster than the dog; then you can run dog on left all the way to the tunnel.
6-9 is the same handling as the first sequence.
You could turn the dog either way over 9 and have a safe tire approach. I liked turning the dog to their right; I could use deceleration and do a Front Cross Jump Wrap
10-13 is the same as 17-20 in the first sequence.
14-18 is the same as 3-8 in the first sequence.
Set your dog's line over 20 and show lateral motion to avoid the off course on the way to 21.
I do want to hear from you if you set up these sequences!
If you enjoyed this article won't you please:
Thanks!
Related Articles: