Advanced Class: Run This Course, Really! - 15-Jun-2011
21 Jun 2011Steve Schwarz
The week I set up the Northeastern regional IHC jumpers course in my backyard I decided to base my class course on the middle of the IHC course. If you look at the course below you'll see obstacles 7-13 are ripped off from David Bozak's IHC course. I changed the arrangement of jumps after the tunnel to fit the space and to make the tunnel more of a challenging off course after 14.
This course lets teams work on: 270s Handling 270 Degree Jump SequencesBack Side Entry to 270/Training Opportunity - Video270 Degree Jump Sequence, a Back Side Jump Handling the Quad Back Side - Patrick Bucher Course/VideoThe Connection Between Threadles and Back SidesBack Side/Back Side JumpBack Side of Jump Handling Combinations - Video, Jump Wraps Jump Wrap Handling TipsJump Wrap Handling - With VideoJump Wrap/Wrap, a 90 degree On Side Weave Entry, some good off course challenges, and ends on multiple Threadles Mary Ellen Barry on Threadle HandlingThe Connection Between Threadles and Back SidesSingle Sided Threadle HandlingTraditional Threadle HandlingThreadle Sequence.
If you are short on space just set up the bottom half of the course and run 8-15.
Course Setup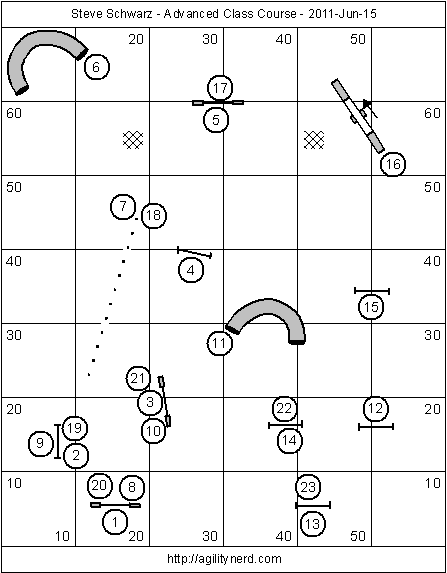 I had my Intermediate class run 1-16 using multiple handling methods for jumps 1-2-3 and 13-14-15. My advanced group ran the whole course and did their usual bang-up-job on it and once again made me proud!
Here are some handling thoughts:
This course was a lot of fun to run, I hope you try it out and tell me your experiences!
If you enjoyed this article won't you please:
Thanks!
Related Articles: