Going to Great Heights
17 May 2010Steve Schwarz
I try to go to great lengths to bring the nerd to agility (and vice versa) but now I'm also going to great heights. When agility videos are filmed at ground level they tend to loose their depth; it is hard to tell how far away from the viewer things are. Lately, I've been filming in my backyard by placing my video camera on a tripod on my deck. That gets the camera about seven to eight feet off the ground. That has helped with getting a better sense of depth. For my next video I've gone one step further:
High Tech Video Camera Mount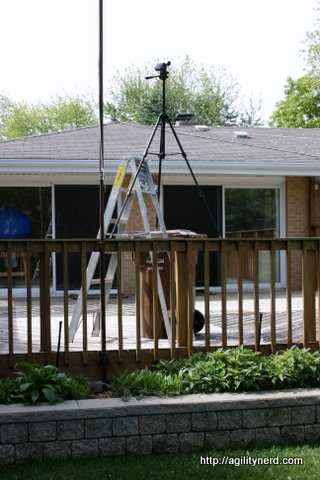 Yep I've put two legs of the tripod on the deck railing and put the third leg on top of my recycling garbage can. That gets the camera about eleven-twelve feet off the ground. So then I have to climb up a ladder to aim and turn on/off the camera! But the video does look better; I hope to post video in the next day or so. It looks a little "trashy" but I'm all about the results.
Somewhere I have some notes on modifying a photographer's light stand into a camera stand; then I could put the camera as high as 15 feet up. But then I'd need a camera that would allow me to connect a remote monitor (or monitor it via a laptop).
Speaking of video, I don't know if anyone has noticed but lately there has been a clicking sound on the audio track of my videos; my $300 Sony video camera has been dropped one time too many. So eventually I'll look for a new video camera (HD?) that will allow me to use a remote monitor or even connect up to Dartfish software like the fancy agility folk use (as if I could afford the software…).
If you enjoyed this article won't you please:
Thanks!
Related Articles: