Love That Old Dog
21 Jan 2013Steve Schwarz
In a moment of weakness I was cleaning up my desk. As I sorted through old documents, bills and receipts I rediscovered a wonderful pencil sketch Nancy did of Milo back in 2009.
As Milo continues into his 14th year, by our estimation, he is always in my thoughts. So dear reader you will have to put up with my sentimental ramblings about the old guy. He tires more quickly, stumbles more frequently and has many moments where he plays the "old dog card" and chooses to not hear or obey. But I mostly don't care what he does. My eyes get a little misty when I see him lying on his bed or in a patch of sun, eyes closed with his (now) white eyelashes; his legs twitching as he dreams of chasing a tennis ball. This sketch will always give me warm feelings about our Milo.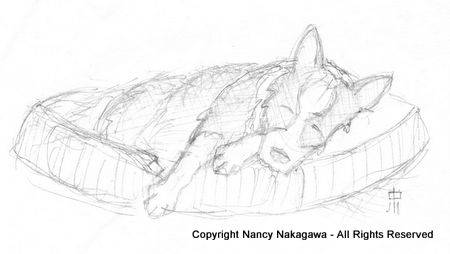 I love that dog.
If you enjoyed this article won't you please:
Thanks!
Related Articles: