Full & Small Space Sequences
03 Feb 2013Steve Schwarz
Here's my class course from this week at FYK9 from which I also created a small space sequence. This sequence contains a bunch of handling challenges including: Jump Wraps Jump Wrap Handling TipsJump Wrap Handling - With VideoJump Wrap/Wrap, [270 270s]], Back Sides Handling the Quad Back Side - Patrick Bucher Course/VideoThe Connection Between Threadles and Back SidesBack Side/Back Side JumpBack Side of Jump Handling Combinations - Video, a big speed circle and a Pull Through.
Here's the full size course - the white circles are how we ran it the first time and you can substitute the black circles to make it easier/harder.
Full Course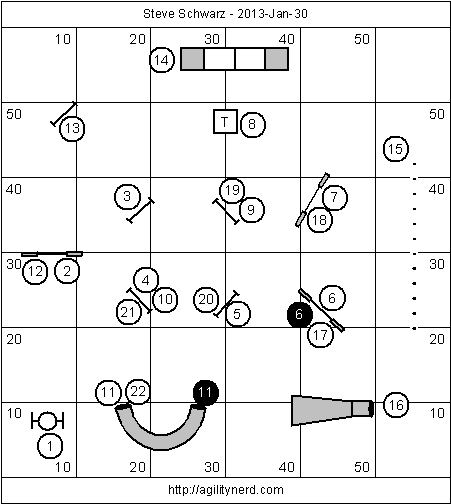 Obstacle Legend
Here are some handling notes for the white circles:
Dog on left 1-2-3 - can you run with your dog or with a minimal

Lead Out

?.
Front Cross Learning the Front Cross - VideoFront Cross on the landing of 3 - to have dog on right to 4.
Then you have (at least) two options:

Treat 4-5 as a 270 where the handler stays on the inside of the turn. Then you can

Scoop

the dog jumping in to your right arm at jump 5. If you step forward once the dog commits you effectively perform a Blind Cross and end up with your dog on your left when they land after 5.
Run through the gap between 4-5 with the dog on the handler's right. When you get to the take off of 5 rotate in to the dog as if Front Crossing and then Ketschker (dog still on right arm). The Ketschker should cue a tight jump wrap and put the dog on the handler's left after 5.

You can choose to wrap the dog to either their left or right over jump 6. Then it is dog on right to the table.
Lead out or Front cross between 9 and 10 to have dog on right to the tunnel.
Connect with the dog coming out of the tunnel and pick the dog up on the handler's left.
Dog on left all the way through the chute.
Talk to the dog in the chute to tighten the turn - Front Cross when dog exits.
Then dog on right 17-18-19 Front Cross on the landing side of 19 and pull dog around to 21 on left.
Front Cross jump wrap 21 and drive forward to the tunnel.
The center of the course is a StarBox Star Box SequencesStar Box Sequence Generator jump layout which I also extracted into this small space course:
Small Space Course
Or take a look at other Star Box courses created on AgilityCourses.
So set up the full course or the small space StarBox and have some fun!
If you enjoyed this article won't you please:
Thanks!
Related Articles: