Small Space Front/Rear Cross Seminar Sequences
10 Apr 2017Steve Schwarz
I'm back from teaching a fun weekend of seminars with Talcott Moutain Agility Club in Manchester, CT and thought I'd share the smaller space sequences I designed with you! The facility was 45' by 60' and all you need are some jumps and one or two tunnels.
When I teach this seminar I focus on the team's execution; I want clean, clear execution, with the handler using their cues and moving on as their dog is committed to the obstacle. So if you set these up those are good things to focus on! Don't worry about completing the sequences; it's your execution that matters.
In the course setup below I used 4 foot bars and 1 foot jump wings. I definitely tweaked the jump locations to suit my needs, don't be afraid to make changes: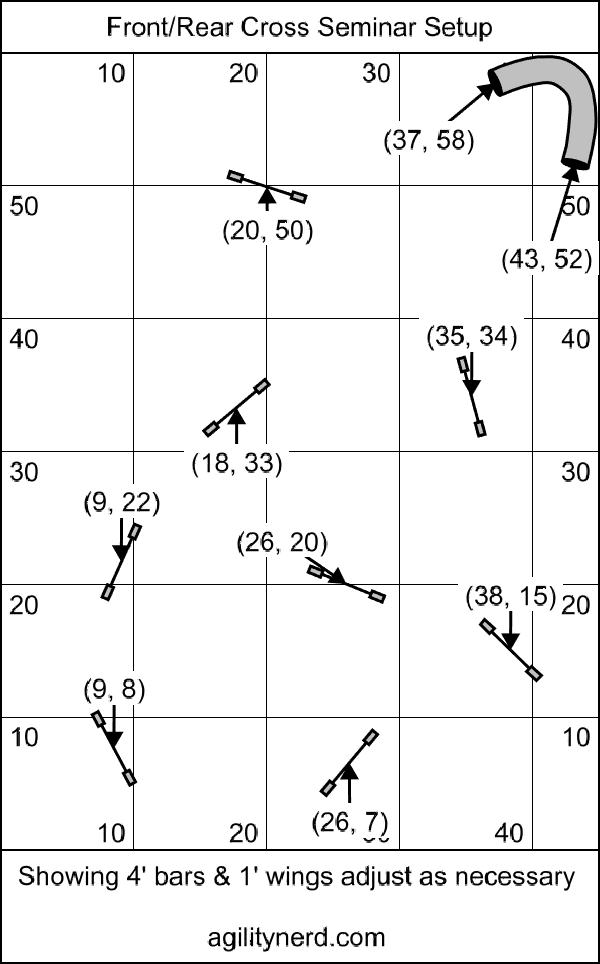 Obstacle Legend
Here's the Front Cross Learning the Front Cross - VideoFront Cross sequence: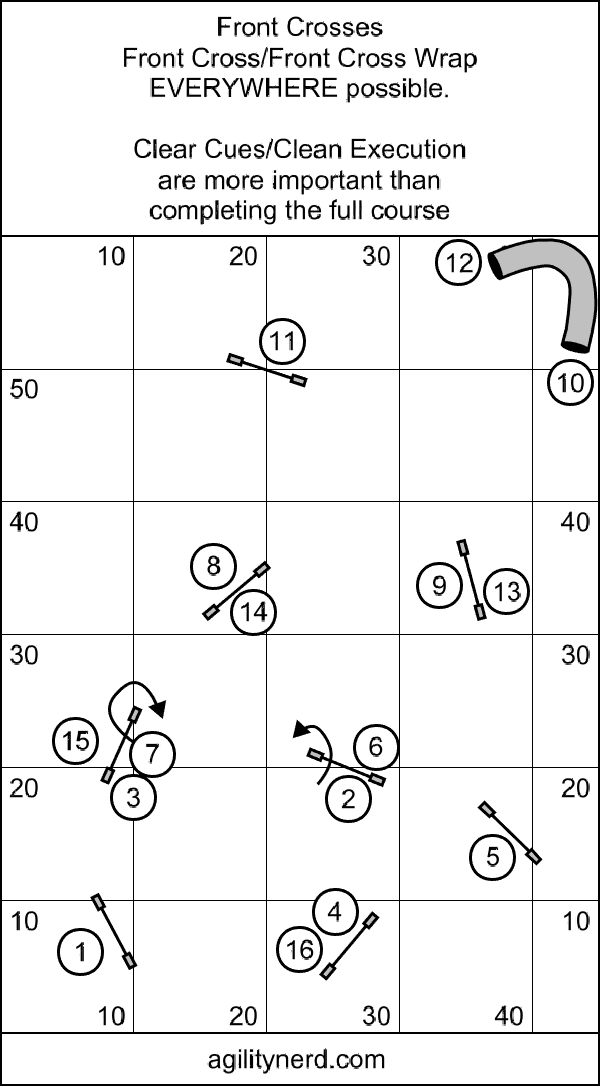 I specify the handling I want the handlers to use so they can work on wrapping Jump Wrap Handling TipsJump Wrap Handling - With VideoJump Wrap/Wrap their dogs to the right and the left, crossing on the flat, and locating their crosses along the Front Cross Line Using the Handler Line - Front/Rear/Blind Cross LineHandler Line - Front/Rear/Blind Cross Line.
Start dog on right, minimal lead out if necessary.
At 2 wrap dog to their left.
At 3 wrap dog to their right.
Dog on right 4-5.
Front cross between 5-6 on approach side of 6. Also practice on landing side of 6.
Front cross over jump 8 (handler on landing side of 8).
Dog on right 9-11.
At 11 wrap dog to their left.
Front cross between 13-14.
Front cross between 15-16.
Here's the Rear Crosses Learning the Rear CrossRear Cross sequence: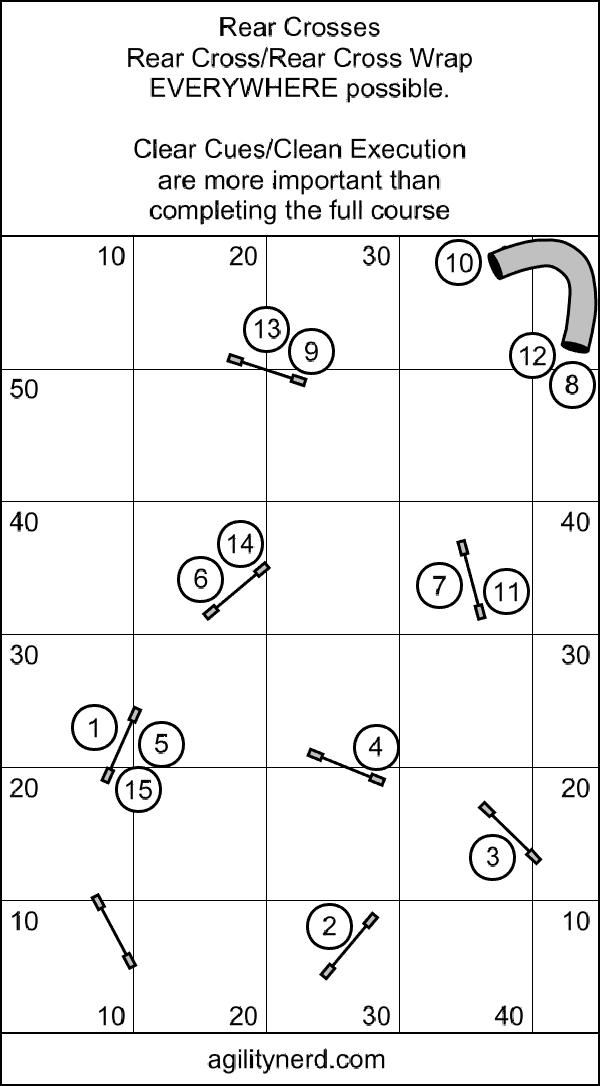 Just like for the front cross sequence, I'll have the handlers do every possible Rear Cross Learning the Rear CrossRear Cross:
Start dog on left.
Rear cross approach of 2.
Shoulder Pull Learning the Post TurnPost Turn/Shoulder Pull/Pivot Turn 3-4 to setup:
Rear cross 4-5.
Rear cross 6-7.
Rear cross wrap 9 (turn dog to their right).
Rear cross wrap 11 (turn dog to their left).
Rear cross 13-14.
Rear cross 14-15.
Here's a sequence I use so handlers can use their choice of front and rear crosses: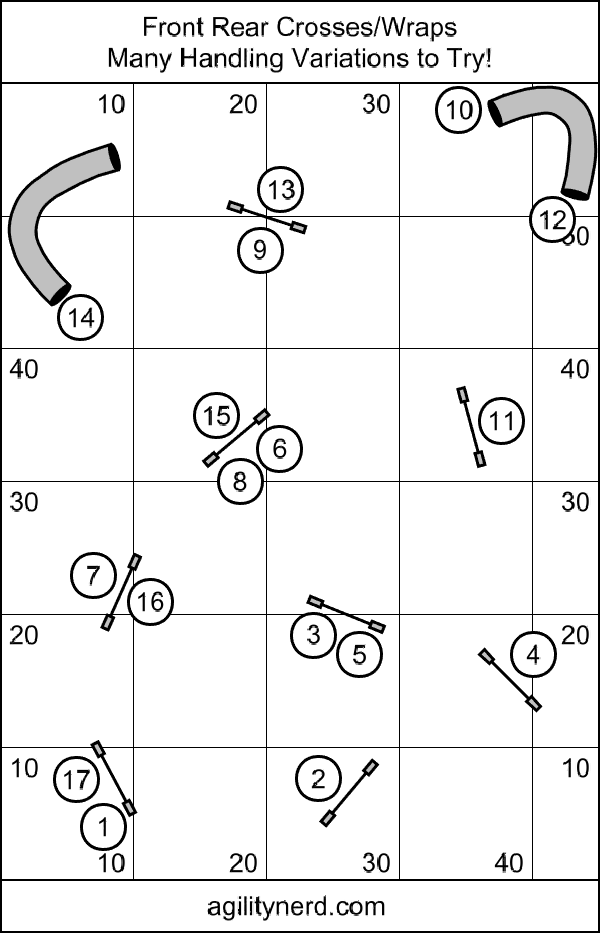 I hope you set these up and have some fun and challenges running them!
If you enjoyed this article won't you please:
Thanks!
Related Articles: