What's International? International Two Jump Drills
06 Mar 2013Steve Schwarz
You don't need a lot of equipment to train yourself and your dog to master the "International" handling challenges that are coming to USDAA, AKC, and UKI trials near you. USDAA made Master Challenge Jumpers and Standard into a Biathlon for this year's Cynosport Games, AKC has been demoing Excellent C courses in some areas, and UKI has always featured "International" handling challenges.
OK, what is an International handling challenge? They really amount to one or more of the following:
Bring the dog past or between off course obstacles to the desired obstacle.
Direct the dog to the side of an obstacle opposite the side the dog would normally take. aka the "Back"/"Far"/"Out of Flow" side of the obstacle.
Handler path restrictions - putting obstacles in the path of the handler to force the handler to remain on a less advantageous side of a sequence of obstacles.
Placing the challenges above after a fast moving segment of the course. i.e. Back Side of a jump after a series of jumps/straight tunnel/dog walk.
Depending on your agility venue(s) of choice you will have experienced some of these challenges in "regular" agility courses. Snooker often requires bypassing an off course obstacle. Similarly a Threadle Mary Ellen Barry on Threadle HandlingThe Connection Between Threadles and Back SidesThreadle SequenceSingle Sided Threadle HandlingTraditional Threadle Handling is an example of the first and second challenges - after taking a jump the dog is brought between two jumps in order to take the side of the second jump that is not the side the dog would "normally" take. To some degree handler restrictions are common on most advanced level courses. Depending on the venue/level the fourth challenge can be more or less prevalent, making the ability to cue an obstacle and immediately leave to get in to position for the next challenge a critical skill.
The good news is a handler with a good understanding of combining Cues and a dog trained with a good foundation can get through most international style courses. Yes there are some combinations of cues that are not your traditional US way of handling from, say five years ago, but you know what? Dogs understand them because they are "just cues" to the dog. In fact, I've done little "international" handling with young Flyer but I was able to have him "pinch hit" for an injured Meeker in an Masters level seminar on some tough courses because of our foundation. Of course you can go further and train specifically for these challenges by introducing new cues (including verbal cues) to allow for more handler independence.
Not everyone is happy about these challenges and not every course/venue will incorporate them. One trainer, in their disparagement of the new handling styles, referred to international handling as "Fancy Crap". I find these challenges invigorating and exciting - I'll take a plate full of Extra Fancy Crap thank you very much. I've really got a lot more to say about training and handling these new challenges but a longer discussion will have to wait.
To demonstrate not much is needed for practice, here are five Two Jump Sequences on which to work your International Handling Skills. Big thanks to Dana Pike for this really nice way to work pushing to the Back Side Handling the Quad Back Side - Patrick Bucher Course/VideoThe Connection Between Threadles and Back SidesBack Side/Back Side JumpBack Side of Jump Handling Combinations - Video of a jump blended in to Blind or Front Crosses Learning the Front Cross - VideoFront Cross. All these sequences let you just keep working by looping back to the first jump and continuing. It is a great way to work in both directions/sides, build up a rhythm and really be successful. You may find you (or your dog) are more comfortable working/turning one way vs. the other. Increase/decrease the distance between the jumps to increase/decrease the difficulty/speed.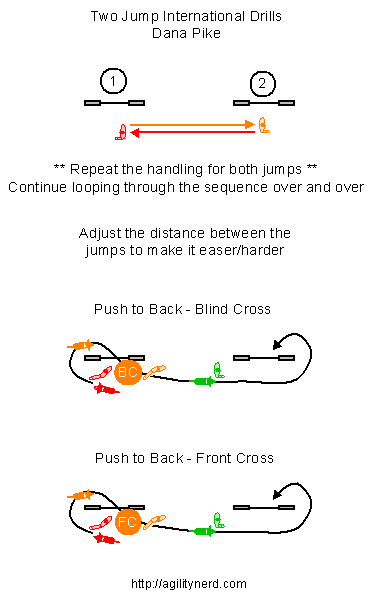 Here are three more sequences that I dreamt up using Dana's idea of repeating the sequence: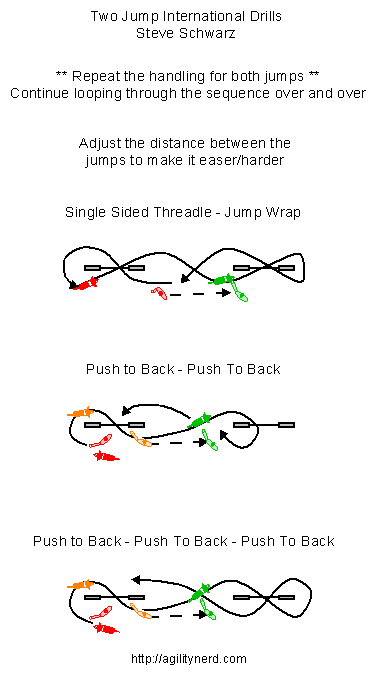 Unfortunately, I've been unable to get time to video running these sequences… any chance you could post your efforts? I'd love to include your video right here! I know you can do it…
Check out dozens of other Dog Agility Bloggers writing their thoughts on the subject of Internationalization for today's Dog Agility Blogger Event!
You might also be interested in these other Two Jump Drills.
If you enjoyed this article won't you please:
Thanks!
Related Articles: