Serpentines, Threadles, and Back Sides
13 Aug 2014Steve Schwarz
In last night's course I put together Serpentines Serpentine SequenceSerpentine Handling Techniques, Threadles Mary Ellen Barry on Threadle HandlingThe Connection Between Threadles and Back SidesThreadle SequenceSingle Sided Threadle HandlingTraditional Threadle Handling, and optional Back Sides Handling the Quad Back Side - Patrick Bucher Course/VideoThe Connection Between Threadles and Back SidesBack Side/Back Side JumpBack Side of Jump Handling Combinations - Video in this fast, flowing class course. The Advanced group ran the white circles and my Masters group ran the black circles. Here's my "morning after" memory of what I dreamt up:
Class Course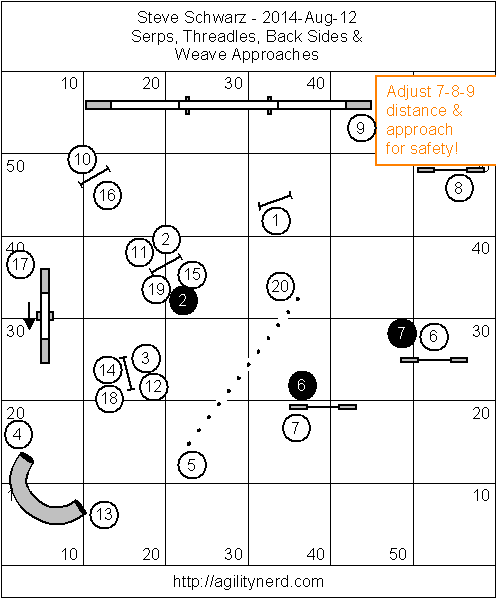 Obstacle Legend
As always, set up the course for safety. Pay special attention to the dog's approach to the Dog Walk to be certain they can safely ascend it with out coming off side ways.
Handling notes:
I preferred dog on left going in to the tunnel. Where do you cross (or lead out) and what cross do you use?
I'd like dog on left out of the weaves. All three crosses on the way in or out of the weaves are possible! For the black #6 having the weaves on the handler's left was the best solution. Blind and Rear on the way in to the weaves worked nicely.
For black 6 to black 7 can you handle it with the dog on your left arm the whole way?
Front Cross DW exit and dog on handler's left 10-13 and again 14-17.
I liked Front Cross landing of 18 with lots of collection and turning cues on the approach to 19 to set up the weave entry.
Please let me know how you did!
If you enjoyed this article won't you please:
Thanks!
Related Articles: