Backyard Practice Course/Video - Jumps and Weaves
13 Sep 2009Steve Schwarz
Earlier this week I threw together a Jumpers With Weaves backyard sized layout with five sequences to play with and thought some folks might want some practice sequences. It has On Side and Off Side weave entrances, 270 Handling 270 Degree Jump SequencesBack Side Entry to 270/Training Opportunity - Video270 Degree Jump Sequences, Threadle Mary Ellen Barry on Threadle HandlingThe Connection Between Threadles and Back SidesSingle Sided Threadle HandlingTraditional Threadle HandlingThreadle Sequences and a Serpentine Serpentine Handling TechniquesSerpentine Sequence. You can squeeze it into a 30 foot by 50 foot space. Here is the layout (all measurements approximate):
Course Layout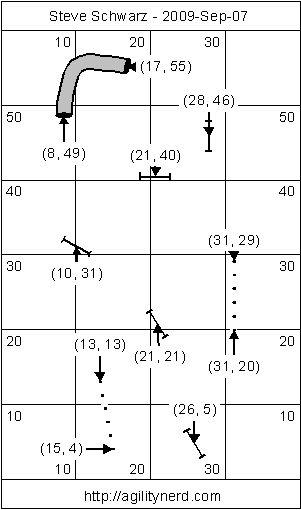 Obstacle Legend
I'll give a couple thoughts on handling for each sequence and there is a video of some of our practice attempts at the end.
Sequence 1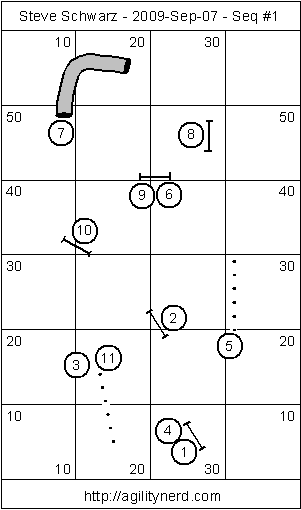 I like this sequence because it turns out handling the 270 from the outside works better than staying in the pocket. Some handling thoughts:
Starting with dog on right no lead out
Run with dog on right all the way to jump 6
Send dog to tunnel (cue tunnel before dog commits to jump 6)
Don't pass jump 6 (if you can) and move to right as dog comes out of tunnel to support jump 8 (dog on handler's left)
Before the dog commits to jump 8, Front Cross to bring the dog over jump 9 with the dog on your right.
Sequence 2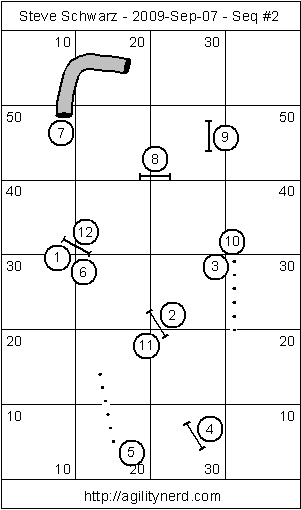 This is probably the hardest of the sequences. Some handling thoughts:
Starting with the dog on left, Shoulder Pull Learning the Post TurnPost Turn/Shoulder Pull/Pivot Turn to get your dog from 1 to two and turn your dog to their left over jump two and continue the pull to the weaves
I liked

Leading Out

and calling your dog to your right arm. Then cue a wrap using your left arm so your dog turns to their left over jump 1 (and you stay on the landing side of jump 2)
Then it is just a big arc with dog on left to tunnel 7
Send dog to tunnel (cue tunnel before dog commits to jump 6)
Cross before jump 8 to get into the pocket of the 270
Front Cross over jump 9 (stay on the landing side and your dog is on your left arm as you move through the gap)
Then it is a Serpentine to the end. Can you use Single Sided handling for this? Which side?
Sequence 3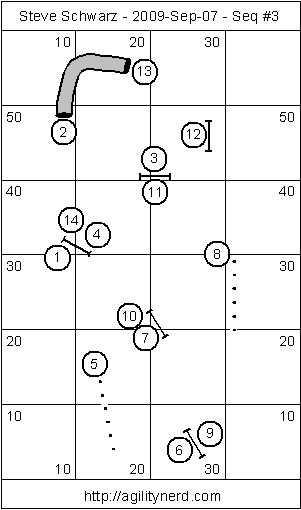 I like dog on left and not passing jump 3/11 while supporting the tunnel
Front Cross between jumps 3 and 4
Front Cross over jump 6 so dog is on your left coming over jump 7
Handle 9-10-11 with dog on left
Front or Rear Cross from 11 to 10?
Don't push the dog too wide over jump 12 (decelerate and use dog's name)
Sequence 4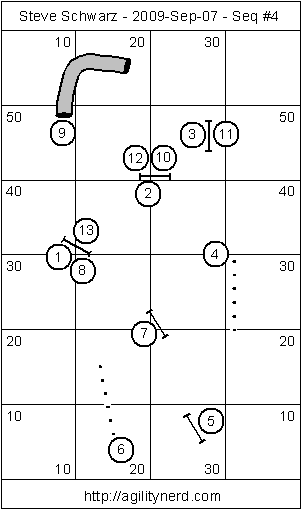 Dog on left 1-2-3
Don't push dog too far over jump 3, don't waste space/time
I like "Backey-Uppy" handling of wrap of jump 7. But you'll need some lateral distance and/or independent weave poles (depending on spacing of obstacles)
Dog on left to tunnel
Could handle the 270 from either side... Try them both
Sequence 5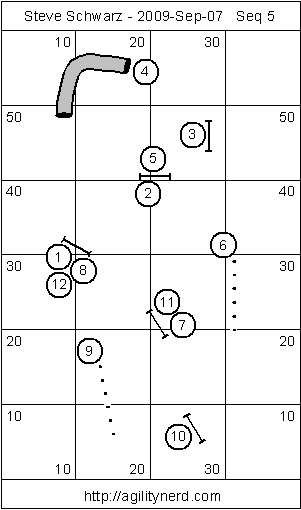 Which side do you like for 1-2-3? Shoulder Pull (dog on right) or Cross (dog on left)
I'm thinking dog on left 5-6-7-8
Turn your dog left or right over jump 8?
Serpentine 10-11-12. I like handling it with Meeker on my right best
Video
Please let me know if you set any of these up and how you handled it!
If you enjoyed this article won't you please:
Thanks!
Related Articles: