Some Two Jump Drills - With Flyer Video
27 Feb 2012Steve Schwarz
Years ago when I posted my One Jump Drills article I got requests for Two Jump exercises. Well now that I'm starting to work on ground work with Flyer I put together a diagram and some rough video on some mini sequences using two jumps: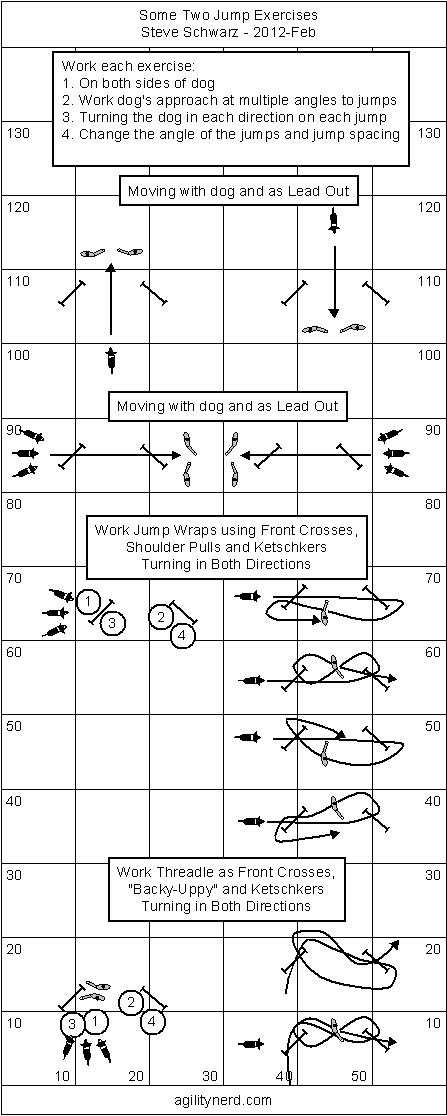 Obstacle Legend
As I mention in the diagram and the video you want to vary each of these parameters:
angle of the jumps
distance between jumps
running with the dog and

Leading Out

putting the dog in a stay and starting with the dog running
On the sequences you basically want to turn the dog in different directions and use all possible Jump Wrap Jump Wrap/WrapHandling 360 Jump Wraps aka "Over and Over" - VideoJump Wrap Handling TipsJump Wrap Handling - With Video methods. Having the jumps setup as a 270 270 Degree Jump SequenceBack Side Entry to 270/Training Opportunity - VideoHandling 270 Degree Jump Sequences also lets you work on all the different 270 handling methods too (maybe I'll diagram some of those in a future article).
Here is a video cobbled together from two or three sessions. It was pretty darn cold and when the sun came out it was melting the "permafrost" making for slippery conditions, as you'll see. I hope you'll also notice the differences in Flyer's enthusiasm. Some times he is excited, other times - not so much. He is still young, just 7 months when these were taken, so he isn't always that into the game. But I'm very happy that I can get him interested in playing with me and happy that he is doing pretty well.
Have fun!
Related Articles: