Small Spaces: Run Both Sides
24 Feb 2012Steve Schwarz
I've created an exercise from my class course at For Your K9 for working on a bunch of skills: 270s 270 Degree Jump SequenceHandling 270 Degree Jump SequencesBack Side Entry to 270/Training Opportunity - Video, Threadles Threadle SequenceMary Ellen Barry on Threadle HandlingSingle Sided Threadle HandlingThe Connection Between Threadles and Back SidesTraditional Threadle Handling, and Jump Wraps Jump Wrap/WrapJump Wrap Handling - With VideoJump Wrap Handling Tips. Of course, you have to cue in a timely fashion or you'll send your dog to one of the off course obstacles. The course setup is kind of tight, in case you only have a little space, if you have more space spread the jumps out for a different set of challenges.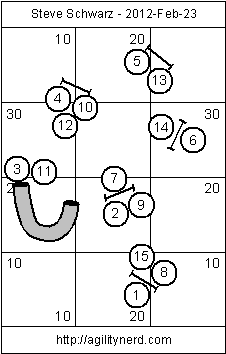 Obstacle Legend
Here are some challenges for you when working on this course:
Hope you try it and have fun!
If you enjoyed this article won't you please:
Thanks!
Related Articles: