Small Spaces: Run Both Sides
24 Feb 2012Steve Schwarz
I've created an exercise from my class course at For Your K9 for working on a bunch of skills: 270s Back Side Entry to 270/Training Opportunity - Video270 Degree Jump SequenceHandling 270 Degree Jump Sequences, Threadles Mary Ellen Barry on Threadle HandlingSingle Sided Threadle HandlingThe Connection Between Threadles and Back SidesTraditional Threadle HandlingThreadle Sequence, and Jump Wraps Jump Wrap Handling - With VideoJump Wrap Handling TipsJump Wrap/Wrap. Of course, you have to cue in a timely fashion or you'll send your dog to one of the off course obstacles. The course setup is kind of tight, in case you only have a little space, if you have more space spread the jumps out for a different set of challenges.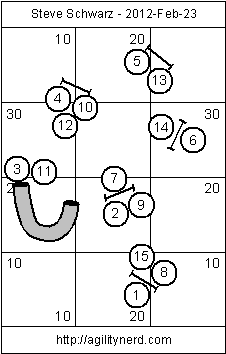 Obstacle Legend
Here are some challenges for you when working on this course:
Hope you try it and have fun!
If you enjoyed this article won't you please:
Thanks!
Related Articles: