All In One Courses - Big & Small Spaces
11 Feb 2013Steve Schwarz
Here's my "action packed" class course from last week at FYK9 from which I also created a small space sequence. These courses contain a bunch of handling challenges including: a Jump Grid, Jump Wraps Jump Wrap Handling TipsJump Wrap Handling - With VideoJump Wrap/Wrap, Pin Wheels, Serpentines Serpentine Handling TechniquesSerpentine Sequence, Threadles Mary Ellen Barry on Threadle HandlingThe Connection Between Threadles and Back SidesSingle Sided Threadle HandlingTraditional Threadle HandlingThreadle Sequence, 270s Handling 270 Degree Jump SequencesBack Side Entry to 270/Training Opportunity - Video270 Degree Jump Sequence, and Pull Throughs.
Here's the full size course - the white circles are how we ran it the first time and you can substitute the black circles for obstacles 12 and 13 to make it harder. If you don't have/like a short chute at obstacle 8 you can substitute a curved tunnel.
Full Course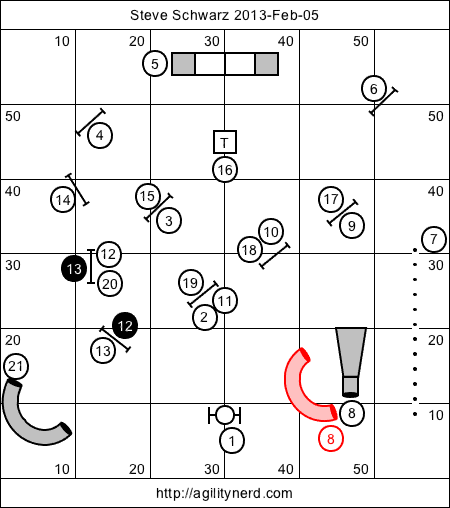 Obstacle Legend
Here are some notes on handling this course:
I prefer dog on right 1-4 and Rear Crossing Learning the Rear CrossRear Cross the take off of 4 to turn the dog to the A Frame. It gave a tight turn and didn't require the handler to lead out/get past jump 3 before the dog. Although you should be able to run it from either side.
Dog on left through chute (although if you have independent weaves you could fade right from the weaves and pick up the dog at the far side of the chute entrance from the end of the weaves) - but then you have to be able to push the dog out to 9.
Faster than the dog? Could Blind Cross exit of chute and handle 9-10-11 with dog on left (landing side of 9)
Otherwise Rear Cross Learning the Rear CrossRear Cross take off of 9 and run 10-11 dog on right. Do not hesititate! Get ahead so you can push over 11 to 12.
Need to cue a Jump Wrap Jump Wrap Handling TipsJump Wrap Handling - With VideoJump Wrap/Wrap at 12 and again at 13 (turn dog to left at 13). Make sure you get the dog's head as you run around/past off course black 13 on the way to 14.
Front Cross between 14-15 or if much faster than the dog handle 14-15-16 with dog on left - like a Single Sided Serpentine.
Long, three jump Single Sided Threadle 17-18-19 - should be able to get first two jumps while moving backwards with good clear cues.
Wrap jump 19 and Rear/Front Cross 20 to turn to the tunnel.
At lot of handling in a short sequence; but you can do it!
Here's a smaller space sequence containing many of the big course's challenges:
Small Space Course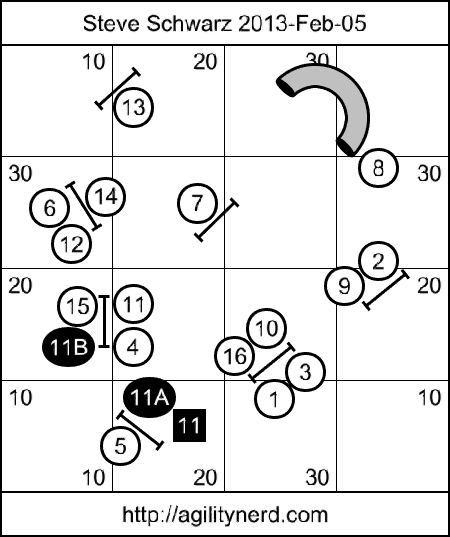 Hope you enjoy it!
If you enjoyed this article won't you please:
Thanks!
Related Articles: