Fun Small Space Courses With Handling Options - Annotated Video
08 Jul 2012Steve Schwarz
2012-Jul-08 Updated with Video containing slow motion and annotations
I extracted this smaller sequence from my class course last night at For Your K-9. This sequence contains a 270 Handling 270 Degree Jump SequencesBack Side Entry to 270/Training Opportunity - Video270 Degree Jump Sequence, Jump Wraps Jump Wrap Handling TipsJump Wrap Handling - With VideoJump Wrap/Wrap, a Threadle Mary Ellen Barry on Threadle HandlingThe Connection Between Threadles and Back SidesSingle Sided Threadle HandlingTraditional Threadle HandlingThreadle Sequence and has multiple handling options. There are also alternate versions for the same setup.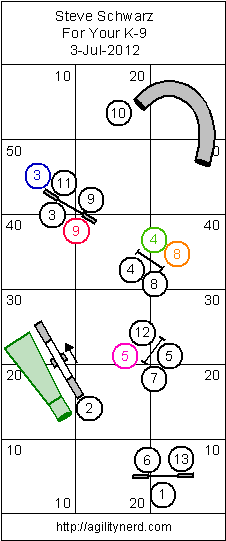 Obstacle Legend
You can also make this layout take less space by removing the tunnel and obstacle #10; thereby wrapping jump #9 360 degrees and going from 9 to 11. If you don't have a teeter a chute or spread jump can be used in its place.
Here are some handling strategies for the black numbers:
1-2-3 dog on handler's left.
Use a Single Sided Threadle for 3-4 and rotate forward at 4 (dog on left over 4).
You can either:
Which ever side of 6 you are on Wrap the dog with a Front Cross Jump Wrap and run! No need to hang around - 7-8 is a straight line
If you have dog on right: you can get ahead and either Front cross or Ketschker on the take of side of jump 9
If you have dog on left: you have more options:

Faster than your dog? Treat 7-8-9 as a Single Sided Serpentine and keep the dog on your left arm all the way to 10!
Not quite as fast? You can Rear Cross Learning the Rear CrossRear Cross the take off side of 8 and 9 (that turns the dog to their right over jump 9. Crossing on the landing side of 8 or 9 is a lousy path.

The rest is easy-peasy. Set the dog's line to 11 and then Front Cross on the landing from 11 to 12. Then dog on left to the finish.
Here are Meeker and I running three handling options:
Looking for more options? move one cone from one side of the jump to the other as shown by the colored numbers and re-run. That gives you five more challenging combinations.
There are plenty of other combinations. I hope you enjoy this mini course as much as my student's liked the full course!
If you enjoyed this article won't you please:
Thanks!
Related Articles: