Big Googility Update and Blog
26 Jul 2008Steve Schwarz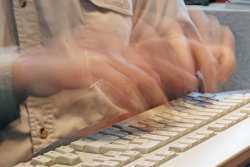 To keep the focus of this blog on agility I've created the Googility blog at Blogspot in which I'll post all future updates and tips on using Googility to search for agility information. I've already posted two articles: refining your search using categories and searching a specific site. I've put the feed of articles right on the Googility home page so you can see what is new with the site whenever you visit. So this should be the last Googility article on this site…
I've just added 500 new sites (mostly clubs and training facilities) to Googility. It has been taking Google a couple days to incorporate them into the search engine. But now they are starting to show up. I'm still visiting the sites and adding/changing their categories to make it easier to locate specific information. So now Googility is up to almost 800 sites!
So if your favorite site didn't show up last time you searched, please take a look now and Please email me if you know of a site to add!
If you enjoyed this article won't you please:
Thanks!
Related Articles: