Meeker Classic Sheepdog Trial 2010
19 Sep 2010Steve Schwarz
Well Meeker and I didn't get to go to Meeker, CO this year for the Meeker Classic Sheepdog Trial but Nancy and one of her girlfriends went on an Amtrak adventure for a long weekend to go see it. The last time we went there was in 2001 and of course that town is the source for Meeker's name. It is really a beautiful spot for a sheepdog trial, the clear blue skies, a large basin with what looks like over a mile long field in which the trial is held. Watching those dogs work, especially on championship day is really an experience. Apparently there are more festivities associated with the championships than when I last went, but the main focus is still the herding trial itself.
So while I can't give you a play-by-play, I can show you the some of the cool stuff Nancy saw and found out there.
The town itself is small and centered around a town square which now has a bronze sculpture of a sheepdog herding sheep. But it also has some good storefronts: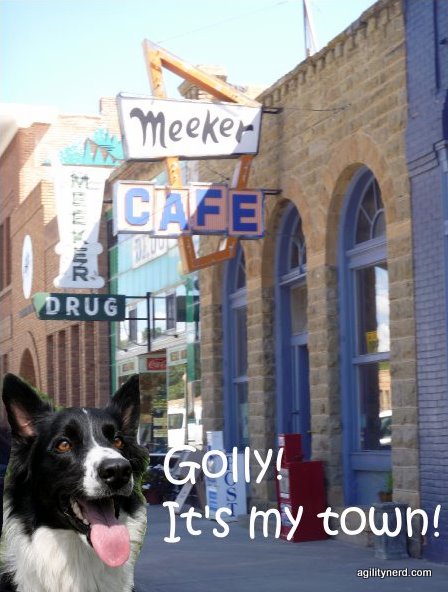 The dog on the trial poster this year looks a lot like Meeker when he has his ears down: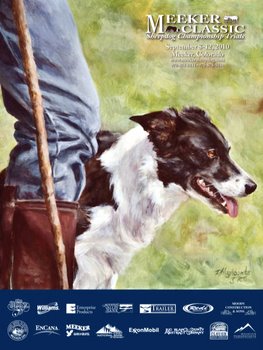 Nancy got me a nice t-shirt with the poster on it (my other one is getting pretty worse for wear) and a Meeker bumper sticker: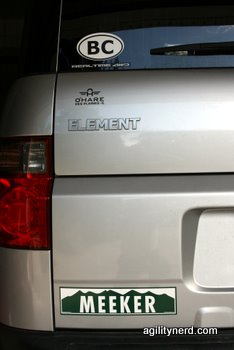 If you are in that neck of the woods I'd highly recommend going to the championships, it is beautiful part of the country and a great time. (Just heard from Nancy that the next week they were having a pie contest in Meeker… yum!)
If you enjoyed this article won't you please:
Thanks!
Related Articles: