Advanced Class Courses - 22-Sep-2010
22 Sep 2010Steve Schwarz
Here are a couple interesting courses I threw together for my classes at the new For Your Canine facility. This course works tunnel/A Frame discriminations, 180 degree weave entries and Jump Wraps Jump Wrap Handling TipsJump Wrap Handling - With VideoJump Wrap/Wrap.
It is funny how the change to a larger space made some people feel the rings were smaller, until more mats arrive, the rings have the same mats (consequently, the same square footage) as in the old facility! Even better, the floor underneath the mats was ground flat and a rough paint applied so the mats don't budge when you run hard on them. Long story short, for now you'll see my class courses will be wider and shorter when compared to older course which are longer and narrower.
Sequence 1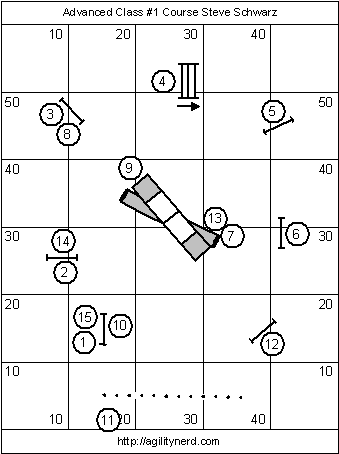 Handling Notes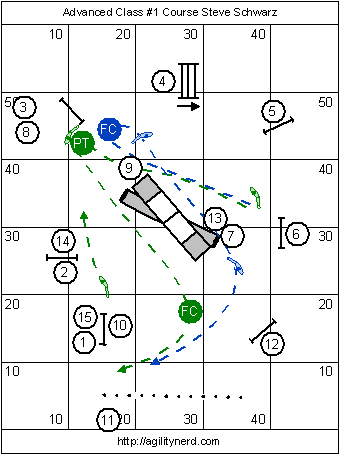 Some handling notes (work both sides green/blue of the A Frame):
The

Lead Out

, if any, goes where the Front Cross Learning the Front Cross - VideoFront Cross would be placed - keep it tight to the jumps!
Green handling for 8-9 you want your Post Turn Learning the Post TurnPost Turn/Shoulder Pull/Pivot Turn placed so you can take a straight line past the tunnel. If you have to move to your right, you might pull your dog with you.
Blue handling for 8-9 - you need to either be faster than your dog and

Scoop

at the bottom of the A Frame or Rear Cross Learning the Rear CrossRear Cross on the flat and then again on the approach to jump 10.
Green handling 9-10 you want to be on the Front Cross line to set a good line for your dog.
Sequence 2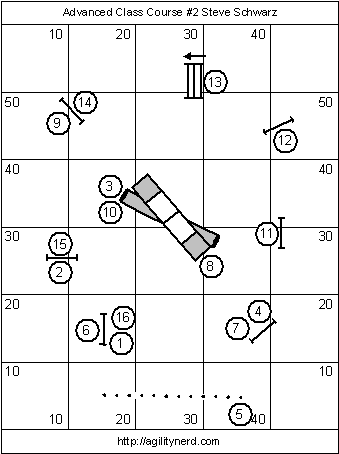 Handling Notes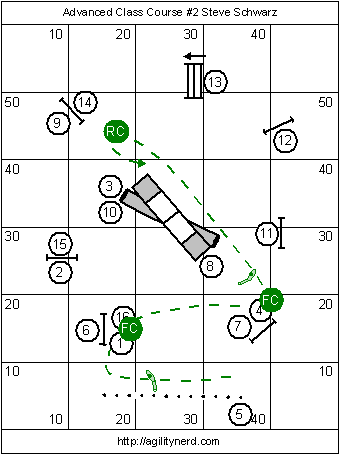 Some handling notes (can you work both sides of the A Frame?):
How much support does your dog need to go to jump 6 after the weaves for you to Front Cross over the jump?
Taking the A Frame on your left gave the nicer handling path. Again leave yourself room to get around the tunnel without pulling your do with you.
15-16 can you hustle and cue a Front Cross there? (yes you can!)
I do want to know how you did on this course.
If you enjoyed this article won't you please:
Thanks!
Related Articles: