Private Lessons Course/Sequence with Video
06 Apr 2015Steve Schwarz
When I give private lessons during a Seminar weekend I like to set up a course with elements that let me work common challenges: Serpentines Serpentine SequenceSerpentine Handling Techniques, Threadles Threadle SequenceMary Ellen Barry on Threadle HandlingSingle Sided Threadle HandlingThe Connection Between Threadles and Back SidesTraditional Threadle Handling, contact Discriminations, Jump Wraps Jump Wrap/WrapJump Wrap Handling - With VideoJump Wrap Handling Tips, and a Back Side Back Side/Back Side JumpHandling the Quad Back Side - Patrick Bucher Course/VideoThe Connection Between Threadles and Back SidesBack Side of Jump Handling Combinations - Video or two. I have the host club provide the course map to the students before I arrive so they can pick out areas on which they might want to work if they don't already have something in mind.
Here is my private lesson course from this past March for the Dog Agility Association of the Ozarks near Springfield, MO: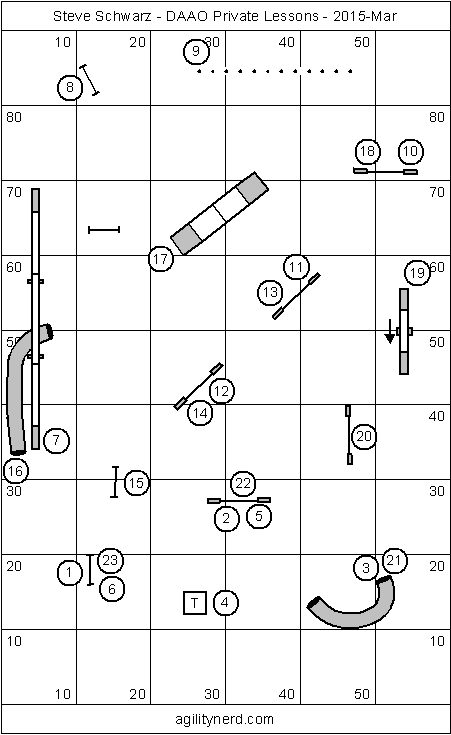 Obstacle Legend
IMO the most interesting sub sequence was obstacles 9-15: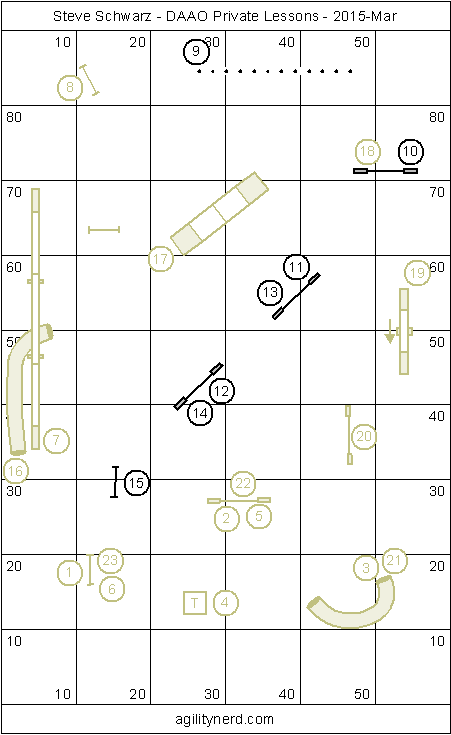 I didn't bring Flyer with me to DAAO and I really wanted to play with that sequence. So near the end of March the ground in my Chicagoland back yard had thawed and it was dry enough to try running on it with risking injury to Flyer or me. So I set up those obstacles and, though the light was starting to fade, I shot a quick video with some ideas of how you might handle it:
I didn't have time to set up the off course A Frame and Teeter which present likely off course opportunities to many dogs… There are also solutions with dog on right after 10 but I didn't have time to try them out. It seemed to me having Flyer on my left fit the rest of the course; but of course there are dozens of variations on handling this sequence.
So whether you have room to set this up this whole course or only the part I played with I hope you'll video and share your efforts!
If you enjoyed this article won't you please:
Thanks!
Related Articles: