NDAL 2016 March 50x50 Int'l Course Analysis/Video
06 Mar 2016Steve Schwarz
Here's the layout and sequence for my March 2016 National Dog Agility League 50 x 50 "International-style" course - this time I've included a video analysis including Flyer and me running the course! Since trainers whose student's compete in NDAL often use the competition course as the basis for their class courses, I also designed eight Starters, Advanced, and Masters Challenge (aka International) style sequences for use in training!
The official NDAL blog post has details on how to join NDAL and run this course with your own club.
Here's the obstacle setup in English and Metric units:
Here's my competition sequence: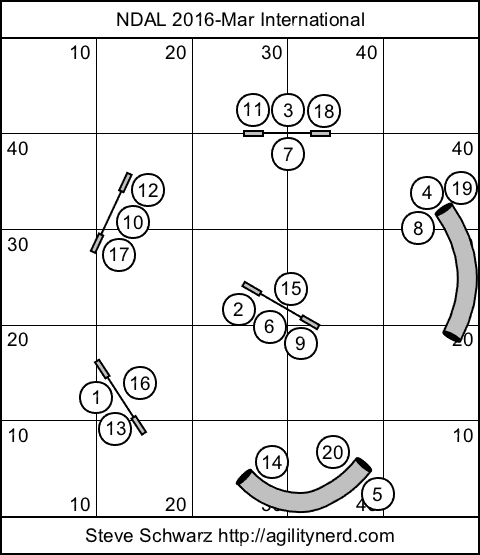 Here's a video with my analysis of the challenges in this course including Back Sides Handling the Quad Back Side - Patrick Bucher Course/VideoThe Connection Between Threadles and Back SidesBack Side/Back Side JumpBack Side of Jump Handling Combinations - Video, Serpentines Serpentine Handling TechniquesSerpentine Sequence, a Two Jump 360, and a Threadle Mary Ellen Barry on Threadle HandlingThe Connection Between Threadles and Back SidesSingle Sided Threadle HandlingTraditional Threadle HandlingThreadle Sequence:
I hope you enjoy the course and the other challenging sequences for this set up.
If you enjoyed this article won't you please:
Thanks!
Related Articles: