Double Box Sequence Generator
08 Nov 2010Steve Schwarz
The seven jump Double Box offers handlers and dogs longer training sequences than the Box Layout and adds the ability to train 180 degree turns.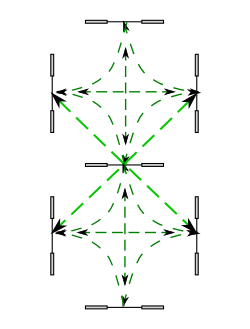 To help other agility enthusiasts I created a web page on agilitycourses.com to generate training sequences for this layout.
The Double Box Sequence Generator has these features:
Choose sequence lengths from 4-20 jumps
Choose the skills you want to work on:
Once you generate a sequence you can bookmark it in your browser to find it again
If you print out a page the page has a short URL printed on it to make typing it in or sending it to a friend easier
If your phone has a camera that can read barcodes, the online and printed courses have QR Codes on them to make it easy to share that page with friends or view it again from your phone if all you have is a printed copy.
Once you've generated a course there is a button to make it easy to generate another sequence with the same settings
I also tweaked the web site styling (yet again) for folks using phone browsers; it should look a little nicer.

Please give the new Double Box Sequence Generator a try and give me your feedback! You might also be interested in my Star Box Sequence Generator and Jump Box Sequence Generator.

If you enjoyed this article won't you please:
Thanks!
Related Articles: