Westminster Agility Finals Inspired - Video & Analysis
18 Feb 2014Steve Schwarz
The Westminster dog agility finals round had an interesting challenge that I wanted to set up in my weekly class courses. The dogs came off the A Frame past a jump to the Back Side Handling the Quad Back Side - Patrick Bucher Course/VideoThe Connection Between Threadles and Back SidesBack Side/Back Side JumpBack Side of Jump Handling Combinations - Video of another jump and then took the jump they had moved past. I didn't have the Westminster course diagram so I just made up a course with that element and added a little extra  fun to the mix.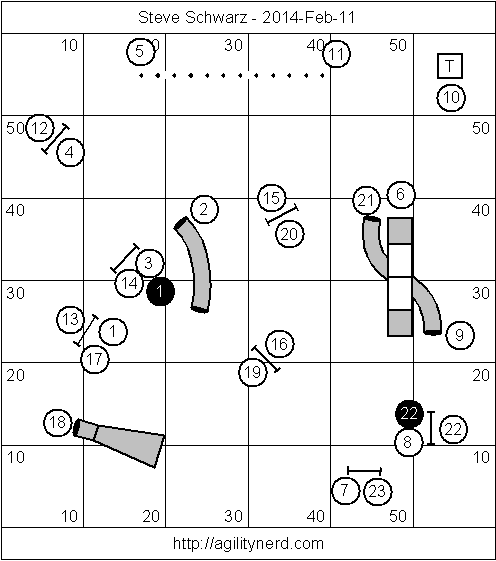 Obstacle Legend
Some handling thoughts:
Talk to the dog in the tunnel to tighten the turn coming out. Can you show your turning cues on the way in  to the tunnel? Pick up your dog coming out of the tunnel?
Dog on left 3-4-5 and 6.
Can you move your dog past off course jump 8 with your dog on your left? (Remember motion is your primary cue).
Push to back jump wrap Jump Wrap Handling TipsJump Wrap Handling - With VideoJump Wrap/Wrap for jump 7.
Pick up dog on right to 8. Can you Blind Cross over 8 to cue the turn toward 9?
Dog on left 9-10.
Dog on right 11-13 - get to 13 to cue a tight wrap.
Which side of 14 do you want to be on?
Dog on left 15-16. I like the Rear Cross Learning the Rear CrossRear Cross on 17 - it is good practice too.
Blind, Rear or Front Cross on the take off side of 20.
Get moving to support slight push to back side of 22 and again to back of 23.
Here's video of Flyer and me running it and my analysis of my mistakes!
I hope you try it. It was a lot of fun!
If you enjoyed this article won't you please:
Thanks!
Related Articles: